Throughout history, women of Novi Sad have bravely come to grips with prejudice and inequality numerous times, doing what was unimaginable at the time.

Only a few centuries ago, women were almost invisible in society. In a patriarchal environment such as ours, they didn't have the right to express themselves, the right to vote, educate or work. The only thing left for them was to become a mother or a housewife. However, there are exceptions to every rule, as it often happens in life. These exceptions paved the way for other women to fight for their rights and get involved in all spheres of social life. The improvement is primarily seen in women's transition from family to public life.
Judita Horovic,
the First Independent Female Entrepreneur
Judita Horovic was a woman who set a precedent in the business world of Novi Sad in the 19th century. There is very little information about Judita's life and not one photo of her. What we know is that she was born in Novi Sad in 1787, to a respectable Jewish merchant family. Judita received education in a time when women weren't allowed to go to school. She was also familiar with her family's merchant jobs and was excellent in leading the inherited family shop 'Horovic' that sold food products. Judita made a name for herself and was the first woman entrepreneur in a man's world.
Aware of the general position of women in society, she fought for their independence and equality. In March 1848, Judita submitted a request to the Magistrate with a group of like-minded women. The request had to do with forming the first female organisation in the city. Her idea was for the organisation to take care of poor and sick people, primarily people belonging to the Jewish community. The Magistrate declined the request. Nevertheless, Judita's vision came true, but only after her death. Jewish women from Novi Sad formed the Novi Sad Israelite Charitable Women's Society in 1976. The society worked continuously until the Second World War.
Judita Horovic lived in today's Pavla Papa Street. She died in 1857 and was buried in the Jewish Cemetery in Novi Sad. Judita Horovic was a woman on top of her task at a time when being a woman in the social and business life of Novi Sad was very challenging.
Marta Jorgović (Neškova),
the First Serbian Female High School Graduate
Marta Jorgović (Neškova) was the first Serbian woman to enrol and graduate from a high school. She graduated from the first Serbian Grammar School in Novi Sad in 1757. Even decades later, not a single woman enrolled in a high school. The right to education was a male privilege.
Again, there isn't much information about her life. She was born to a rich and respected family around 1742. She applied for high school at her father Neško Petrović's insistence, who was a famous school benefactor in Serbia. She took Latin, Rhetoric, Syntax and Poetry. Marta graduated from the First Serbian Grammar School (today's Zmaj Jovina Grammar School) in Novi Sad, where only men went to even decades later.
Marta married merchant Jovan Jorgović when she was 25 years old, which was considered late at the time. She had four children and died before the age of forty, around 1780.
Draginja Ružić,
the First Serbian Professional Actress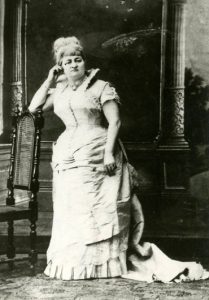 Draginja Ružić, born in Vranjevo (today's Novi Bečej) on 2 October 1834, was the first Serbian professional actress. She was a member of the Serbian National Theatre's ensemble in Novi Sad. Draginja was the daughter of priest Luka Popović and his wife Milica, a housewife. She was the first to leave the family house and become part of the amateur association in Serbian Čanad (Romania). On 17 July 1860, she performed for the first time, playing Vidosava in Ajduci by Jovan Sterija Popović. Draginja was a woman of unusual beauty, strong temperament, high intelligence, great diction and chiming voice, a versatile person who could play any role. She was artistically brilliant in every genre and was superior to other actors, which led to a bigger salary. She worked in the Serbian National Theatre from 1861 and until the end of her acting career. Ružić played the most diverse roles – from sentimental, drama, character, comic and serious roles, to roles requiring singing. It was estimated that she played around 350 roles, breathing life into each character she ever portrayed. Her ambition and careful work led to contemporary critics describing her as a high-ranking European artist. She stopped acting unexpectedly in 1989, after having spent 38 years on stage. It was quite a surprise since everyone thought she was at her full artistic strength. However, she wanted the audience to remember her in her best days.
Draginja was married to actor Dimitrije Ružić and she contributed a lot to his artistic development. Their marriage was quite harmonious. Dimitrije Ružić and Pera Dobrinović (Draginja's son in law) were the best actors to ever set foot in the Serbian National Theatre.
Draginja Ružić died in Vukovar, on 6 September 1905, at the age of 71. Her remains were transferred to Novi Sad and buried in the Almaš Cemetery, together with her husband Dimitrije and her niece Milka Marković. Their gravestone was proclaimed a cultural monument in 1999.
Priest Luka Popović and his wife Milica's family gifted the Serbian theatre with many famous people – the famous Priest-Luka's artistic dynasty. All five daughters and two sons were talented actresses and actors, in addition to being hard-working and ambitious – Draginja Ružić, Ljubica Kolarović, Katica Popović, Jelisaveta Jeca Dobrinović, Sofija Vujić, Laza and Paja Popović, as well as their sons and daughters in law – Dimitrije Ružić, Dimitrije Kolarović, Pera Dobrinović and Laza's wife Maria Adelsheim-Popović. They made up almost half of the ensemble of the Serbian National Theatre in Novi Sad. Even Luka's grandchildren continued the acting tradition – Zorka Emilija Popović Todosić (the first to play Koštana and one of the first Serbian television actresses), Milka Marković (the first Serbian female director) and Luka Popović (founder of the Serbian theatre for emigrants in America). Milka's son Dimitrije Mitica Marković, great-grandson of priest Luka, was a great character actor and a talented opera singer.
Milka (Milica) Marković,
the First Serbian Female Director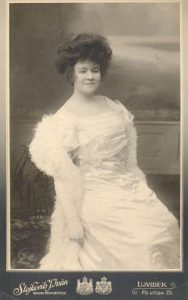 Milka Marković was an actress, mezzo-soprano, translator and the first Serbian female director. She was one of the most striking and educated artists of her time. She acted and sang in over 225 plays, directed 16 plays and translated dramatic texts for the Serbian National Theatre. Milka was one of the few musically educated theatre artists; she worked on her strong mezzo-soprano and played the piano.
She came from the acting dynasty of priest Luka from Vranjevo and was born in Pančevo in 1869, to an artistic family. Her mother Sofija Maksimović (later Vujić) was a famous actress in the Serbian National Theatre, while her father Aksentije Maksimović was a composer and kapellmeister in the Serbian National Theatre as well. She lost her father quite early in life, Aksentije died in Prague. She received primary education in places her mother was acting and was graduated from a high school in Sombor. Milka had her first role when she was only five, became an intern in the National Theatre in Belgrade at the age of 14 and played around 20 roles in just two years. She began to work in the Serbian National Theatre in Novi Sad in 1885. She usually portrayed tragic characters, such as Shakespeare's Juliet, Ophelia and Cordelia, Schiller's Maria Stuart, Tosca (Sardou), Anđelija (Death of the Jugović Mother), Hasanaginica (Aleksa Šantić)…
In order to improve professionally, she started visiting theatre centres across Europe – Vienna, Prague, Berlin, Munich, Dresden, Paris, Rome, Genoa, Venice, etc., at the beginning of the 20th century. The versatile education of Milka Marković encompassed rich knowledge of literature, as well as Hungarian, German and French, which led to her translating dramatic texts from these languages. Some of the plays she translated for the Novi Sad audience include Mademoiselle Josette, My Woman by Paul Gavault and Robert Charvay, Les Petites Mains by Eugène Labiche and Édouard Martin, The Polish Jew by Erckmann-Chatrian. She directed a total of 16 plays throughout her career, all of which were staged in the Novi Sad theatre. The first drama she directed was Love by Potapenko in 1911. And then Ghosts by Ibsen, The Thief by Bernstein, Alien Bread by Turgenev, A Falu Rossza by Tóth Ede, Death of the Jugović Mother by I. Vojnović, Hasanaginica by A. Šantić…
Milka Marković's private life was marked by two tragedies. The first is the death of her son Stevan, right before the First World War, and the second is her husband Mihailo's suicide in Genoa, where they lived during the war. After they came back to the Kingdom of Serbs, Croats and Slovenes, she held a series of concerts across the country with her son Dimitrije, who was also an actor, singer and director. She got back on stage of the Serbian National Theatre and was officially retired in 1925 but continued to work due to bad financial circumstances. She died in Novi Sad in May 1930. Milka was buried in the Almaš Cemetery. She was awarded the Order of St. Sava. Today, the streets in Novi Sad and Pančevo bear her name.
Zorka Lazić,
the First Female Journalist
Zorka Lazić was the first female journalist in Vojvodina. She was born around 1878 in Neštin, a place in Vojvodina, to a rich merchant and property owner – Svetozar Miletić's nephew. Zorka's parents invested a lot in her education. She graduated from a high school in Slavonian Požega and was preparing for serious literary work. Since a young age, she was writing for the Zastava newspaper, hiding behind a pseudonym. Himna mom dedi Svetozaru Miletiću (en. Anthem to My Grandpa Svetozar Miletić) is the only printed work of hers.
When she was 20, Zorka married Sima Lukin Lazić, a writer, journalist and editor-in-chief of Vrač pogađač, a satirical political periodical.
She became a widow with four children when she was only 24. Zorka went from a carefree, rich and happy woman to a woman uncared for and without money. Before this happened, her parents experienced an economic collapse, and Zorka took it upon herself to care for them and her sister. She wanted to preserve the periodical Vrač pogađač, which her husband left her, but subscriptions weren't regular and the expenses piled up. She often deprived herself of both sleep and food in order to save the periodical that Sima loved dearly and that she thought was important for Serbs. After eight years of working as editor-in-chief, administrator and author of texts, she decided to stop the publication. The last time Vrač pogađač was published was on 14 July 1914.
Zorka Lazić reoriented toward charity work. And she did great. She worked in fostering the children, providing them with shelter and food, for which she was awarded the Order of Saint Sava by king Aleksandar. After the First World War, she came back to journalism and publishing and started a children's periodical (sr. Dečiji list). She cooperated with the Zagreb's monthly Ženski Svet (en. Women's World) and Belgrade's weekly Jugoslovenska Žena (en. A Yugoslav Woman). Zorka was one of the founders of the Yugoslav journalist section in Novi Sad. She committed to bettering the social position of journalists. When the journals and magazines she worked on stopped being published, she completely retreated from public life. Zorka Lazić died in 1948.
Ana Lazukić,
the First Professional Woman Photojournalist
Ana Lazukić, born Anna Hemm, was the first professional woman photojournalist in the former Yugoslavia. Ana was born in Novi Sad in 1937. She learned tailoring in Kula and then enrolled in the College of Vocational Studies for the Education of Preschool Teachers in Novi Sad. There, she fell in love with photography and joined the photo-cinema club Branko Bajić, where she gained basic knowledge and started to participate in exhibitions across the country, winning many awards. She studied Hungarian language and literature, and although she never graduated, Ana acquired rich knowledge of her mother tongue.
Soon after, she started working as a journalist in an editorial board of daily newspaper Magyar Szó, one of the leading newspapers in Vojvodina in the Hungarian language. She wanted to illustrate texts with her own photographs, but the chief editor didn't allow her entrance to the laboratory, saying as long as he's director, no woman would be a photojournalist in the newspaper. After she married photographer Stevan Lazukić and gave birth to her daughter Katarina, Ana started working as a lector in the editorial board of the youth periodical Képes Ifjúság, where she stayed from 1970 to 1974. The new editor-in-chief of Magyar Szó asked her to come back to be a photojournalist, which she gladly accepted. She stayed there for almost 30 years, until her retirement in 1990.
Ana Lazukić did both journalistic and artistic photography. In addition to photographing political and cultural events and their participants, she photographed different life scenes as well. Those were mainly the situations from everyday life, with a dash of symbolism, humour and metaphors. Some of her best works include images of demonstrations and people gathered together, students, homeless people, couples, enthralled readers, concerts and fashion events, as well as lives of people on the periphery. The works were captured in America, England, Spain, France, Italy, Denmark… She was one of the first female photojournalists to watch the Vojvodina Assembly's sessions and football games at the stadium of Vojvodina. She participated in more than 300 joint exhibitions in the country and abroad and held 19 solo exhibitions. She won numerous awards in Novi Sad, Belgrade, Split, Dubrovnik, Skopje, Tokyo and Montevideo.
Ana Lazukić died in 2020, at the age of 83, from the coronavirus. She was buried in the New Cemetery in Petrovaradin. She once said, 'I lived for photography and I captured life.'
Olga Hadžić,
the First Rectrix Magnifica
Academician Olga Hadžić, PhD, was a Serbian mathematician, academician of the Serbian Academy of Sciences and Arts and the first woman rector in Serbia (1996-1998). She was born in Novi Sad in 1946 to father Lazar and mother Radmila. Her father was a lawyer, whose grandpa Ilija Ognjanović was a writer and a doctor. Having finished primary school, she enrolled in the Jovan Jovanović Zmaj Grammar School, as well as in the Instrumental Piano Department of the Isidor Bajić Music School. She got her bachelor's degree in mathematics from the Faculty of Philosophy in 1968, becoming assistant professor of the Department of Mathematics at the newly opened Faculty of Sciences in Novi Sad that same year. She defended her master's thesis at the Faculty of Mathematics in Belgrade in 1970. Two years later, in March 1972, she obtained her PhD degree from the Faculty of Sciences in Novi Sad. She also earned her master's degree in tourism in 2005 and defended her second PhD thesis in strategic management in tourism only a year later.
Olga Hadžić acquired all teaching titles from the Faculty of Sciences in Novi Sad. She was appointed assistant professor in 1973, associate professor in 1977, and full professor in 1981. She became a corresponding member of the Vojvodina Academy of Sciences and Arts in 1984, and a full member in 1990. She became a full member of the Serbian Academy of Sciences and Arts (Serbian abbreviation – SANU) in 1991. Within SANU, she was a member of the Department of Mathematics, Physics and Geosciences.
Disciplines of her scientific work include numerical mathematics, methods of functional analysis, topology and probability theory. As an author and co-author, she published more than 200 scientific papers and 21 books. She was elected rector of the University of Novi Sad in 1996 and thus became the first female rector (rectrix magnifica) in Serbia. She was the editor-in-chief of the Journal of Mathematics of the Faculty of Sciences from its founding in 1971 to 1995. Olga Hadžić was a prominent scientist, professor, erudite, great humanist, philanthropist and winner of a large number of awards and charters. She died at the age of 73, on 23 January 2019. Olga was buried in the City Cemetery in Novi Sad.
Aleksandra Ivošev,
the First Female Olympic Gold Medalist
Aleksandra Ivošev is a Serbian athlete and a former member of Serbia's Archery team. She won gold Olympic medals in Atlanta. She was born in Novi Sad in 1974. Aleksandra started archery when she was 13, inspired by Karl May's books. She won her first medal when she was only 16 and became a European champion when she was 17. She used to break personal records in the biggest competitions.
She appeared at the Olympic Games three times. At the Olympics in Barcelona in 1992, Aleksandra participated independently since Yugoslavia was sanctioned. She finished 14th. The Olympics in Atlanta brought her two medals. She won a gold and a bronze. That's how Aleksandra Ivošev became the first gold medalist at the Olympic Games in Yugoslavia, i.e. Serbia and Montenegro. She won third place in the air rifle discipline at the European Championship in Budapest that same year. Aleksandra wasn't prepared enough for the Olympic Games in Sydney in 2000, but came anyway at the special invitation of the World Shooting Federation.
In 1996, she was awarded the Gold Badge for the most successful athlete in Yugoslavia by the daily sports newspaper Sport. That same year, the Sports Committee of FR Yugoslavia declared her the best female athlete. After these successes, Aleksandra withdrew from sports and gave priority to her family. She stopped training in 2003. In the meantime, she got married and had three sons. She works in the Archery Association of Vojvodina.
Katarina Lengold Marinković,
the First Female Lawyer
Katarina Lengold Marinković is the first woman to become an approved lawyer. She was enrolled with the Vojvodina Bar Association on 2 September 1933. At the time, women weren't allowed to vote. They got the right to vote in 1945.
Half a century earlier, Marija Milutinović Punktatorka lived in Belgrade. She was considered the first female lawyer, or rather the attorney. She did finish the Faculty of Law in Pest, but she occasionally worked as an advocate. Formally, she was never part of the bar, nor did the ministry ever concede the right to call herself an attorney. Thus, we consider Katarina Lengold Marinković the first official woman lawyer within the modern system.
Katarina was born in Petrovaradin in 1904. She lost her parents quite young and was appointed a guardian of the girls' grammar school in Novi Sad. She graduated from the Faculty of Law in Subotica. The original copy of her degree is exhibited in the hall of the Vojvodina Bar Association. During her studies, she met Lav Lengold who came to Serbia from Russia in 1918 and who later became a judge. Katarina and Lav's marriage didn't last long. They got divorced and Katarina never married again nor had children. She passed the bar exam in 1932 and was enrolled with the bar a year later. In her career, Katarina mostly dealt with civil and family law. Most of her clients were women. She was very active in women's movements and was part of the International Association of Women Intellectuals.
During the Second World War's occupation, Katarina Lengold Marinković was not allowed to work in advocacy, not because she was a woman, but because she was deemed politically and ethically unsuitable. After the occupation, she worked as a guardian of the Vojvodina Bar Association. Thanks to her, the whole archive dating back to 1875 was preserved. In 1949, she quit the bar association deeply disappointed with the new directorate influenced by the Communist Party. Katarina Lengold retired in 1956. She lived a quiet life in Sremski Karlovci until the tragic death in 1974. She died in Zagreb, in one of the biggest train accidents.
Katarina Lengold Marinković was the first woman lawyer who was divorced and who was financially independent. She was a member and a leader of many women's movements. Katarina was a respected and appreciated lawyer. Despite her successful career and lifelong support to gender equality, she is not remembered by many.
Savka Subotić,
the First Active Women's Rights Activist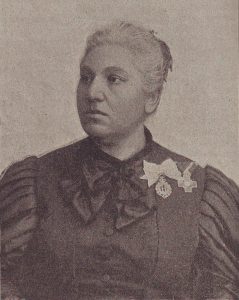 Jelisaveta Savka Subotić was one of the first feminists in Vojvodina and one of the most significant practical female pedagogues in Vojvodina in the 19th century. As a result of her work on the emancipation of women, she received the honorary membership of numerous local and international women's organisations.
Savka was born into a respectable merchant family Polit on 11 October 1834. Her brother Mihajlo Polit Desančić was a prominent politician, journalist and writer. When she turned four, she was sent to a private primary girls' school. She continued her education in Timișoara and then Vienna, where she married Jovan Subotić in 1851. Jovan Subotić was a doctor of law, writer and politician, one of the most important persons of cultural and political life of Serbs in the Habsburg Monarchy in the 19th century. They had seven children. One of their sons, Vojislav, became a famous Serbian doctor, founding father of practical surgery and the whole operational medicine in Serbia as well as one of the founders of the Faculty of Medicine in Belgrade.
Savka Subotić worked as an advocate for female education and was leading the action for opening high schools for girls in Serbia, which were opened in Novi Sad and Pančevo in 1874, and in Sombor in 1875. Her goal was to better the position of women in society and to allow them the right to education and work. She invested a lot in pedagogical work among the youth and women in the countryside. She understood the value of women's folk handicrafts and focused part of her activities on the development, production and branding of Serbian folk handicrafts, i.e. domestic industry. The products they made themselves, such as carpets, Serbian linen and embroidery, as well as certain products made according to Savka's ideas, conquered the world. Savka Subotić founded the system of studying carpets in Vojvodina, as well as the chronological classification of carpet development. Awards received at world exhibitions, including the award at the Paris exhibition in 1900, speak in favour of Savka's achievements.
Savka Subotić attracted great attention of the European public in Vienna, London, Paris, Rome, Stockholm, and she was written very affirmatively about in many European newspapers. After the lecture Women in the east and the west, held at the Vienna Science Club in 1911 and her speech at the International Congress on Women's Voting Rights in 1913, she became the most famous woman from the region. She collaborated with the leading world and European feminists, such as Rózsa Schwimmer, Käthe Schirmacher, Carrie Chapman Catt, Bertha Pappenheim. None of her contemporaries from the Novi Sad cultural circle has attracted as much attention from the European public as she did. Savka Subotić was among the leading feminists at the end of the 19th century. Her fight for women's rights includes the following: compulsory and quality education and schooling of female children, qualification of women for different occupations and their inclusion in work through fair wages, economic empowerment of women from the rural areas, political rights of women, change of attitude towards illegitimate children, gender role reform through marriage reform, anti-militarism (reduction of the budget for the army and budget increase for agriculture and culture), popularization of the local women's movements and inclusion in international movements.
She received the honour of Serbian and Russian courts. In Novi Sad, she formed the First Women's Charitable Cooperative, which financed the education of girls who were not well off. She was the first president of the Circle of Serbian Sisters. She left written records on many famous and significant persons from the second half of the 19th century.
Savka Subotić died in Novi Sad, on 25 November 1918, the day when Baranja, Bačka and Banat joined the Kingdom of Serbia. Her remains were transferred to Zemun and buried in the Subotić family tomb. Despite the achievements Serbian people are deeply indebted to her, her life and work are not spoken of, especially in the Novi Sad cultural community, a place where she was born and raised.
Author: Ljiljana Dragosavljević Savin, master historian
Photo: Wikipedia
Translated by: Marija Protić