The Petrovaradin Fortress was built in the 18th century on the remains of earlier historical fortifications of numerous cultures and civilisations that were found in this area. The fortress had enormous military-strategic, political, commercial, and cultural importance. The significance of the gates was reflected in the fact that all the communication between the fortress and the outside world took place through them, and their strategic layout and traffic influenced the strength of the fortress. The Petrovaradin Fortress had one main and many side gates. It is believed that there were about 30 gates in the fortress. Unlike the other parts of the fortress, which had to be built according to predetermined strict rules, the engineers had absolute artistic freedom at the gates.
The Gates are Locked
The gates were named after the rulers or after the places to which they led. The names of the gates at the Petrovaradin Fortress were Belgrade Gate, Charles VI Gate, Molinrie Gate, Leopold I Gate, Palace Gate, Water Gate, Kamenička Gate, Novi Sad Gate… These gates once had special doors made of high-quality oak wood, reinforced with metal plates, which were attached with strong metal rivets. The gates were locked after the change of guard, one hour before sunset, and the key was with the commander-in-chief. If any of the people found themselves outside the gates after locking, they could enter only with a good excuse and through the small door. There was also a password for the entrance, which was changed every morning.
Belgrade Gate as a Symbol of Freedom
It was built in 1753 between the Bastion of St. Benedict and Bastion of St. Francis, on the main road towards Sremski Karlovci and Belgrade. The former gate, in addition to the present one, also included a front open gate and a bridge over the moat, but this was removed before World War II during the reconstruction of the road and the construction of another vehicular crossing. This gate consists of two different facades, the outer one which is 20 meters long, and the inner one which is 40 meters long, while the height of both is 10 metres. On the inner side, towards Suburbium, there is an open porch from where you descend into an underground minefield. The facade is designed in a baroque-classical style.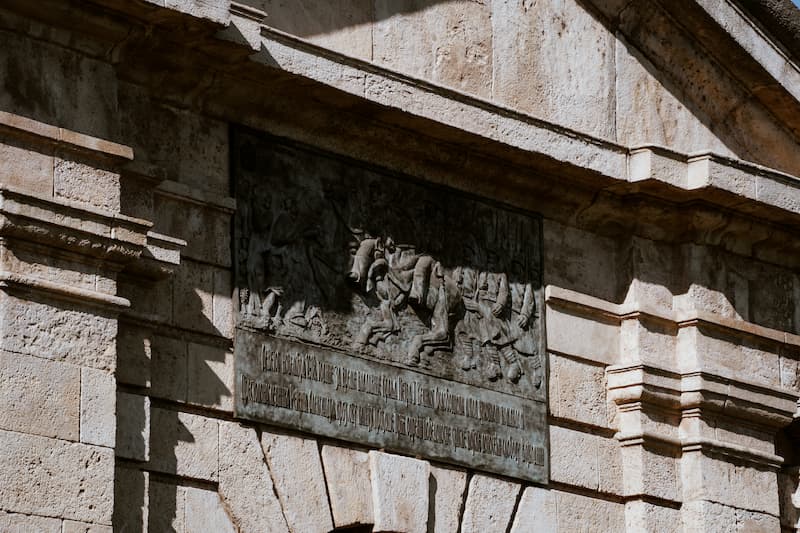 Above the oval passage was the Novi Sad coat of arms, which during the reconstruction period (2011 – 2015) was replaced by a replica of a plaque with a bas-relief depicting the entry of the Serbian army into Novi Sad, with the text: 'On 9 November 1918, during the reign of King Petar I the Great Liberator, and under the supreme command of the heir to the throne, Regent Aleksandar, the first detachments of the victorious Serbian army passed through this gate, bringing freedom to Vojvodina'. The original bas-relief was the work of Novi Sad sculptor Zlata Markov Baranji.
Author: Ljiljana Dragosavljević Savin, MSc, historian
Photo: Jelena Ivanović