Other? Europe, as the European Capital of Culture's last programme arch, brings us numerous inclusive events with an emphasis on the creativity of marginalised groups. One such event you must visit is the exhibition Europe According to Feješ which will take place at the Cultural Centre of Novi Sad and Tourist Organisation of Novi Sad, from 11 to 23 October.
Let's get acquainted with the work of the protagonist of the world's naïve art, Emerik Feješ (1904 – 1969), an unconventional 20th-century artist from Novi Sad, and a painter of European cities which, due to severe poverty, he never had the opportunity to visit. And since he did not have money to buy brushes and paints, Emerik Feješ made ends meet in other ways. He painted using toothpicks and button paint.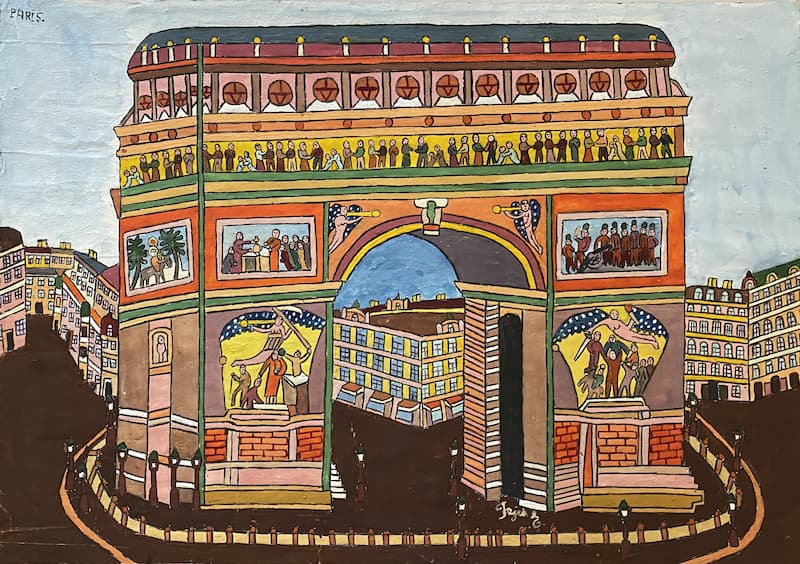 A director of the Museum of Naïve and Marginal Art in Jagodina, and a true connoisseur of his work, Ivana Bašičević Antić, PhD, can best explain to us, who Emerik Feješ, one of the world's most important naïve artists, was.
Her grandfather, Ilija Bašičević Bosilj, was a friend of Feješ's, and her uncle Dimitrije Bašičević was an art historian who organised a large solo exhibition for Feješ. The influence of this artist passed on to her father Dr Vojim Bašičević, who was a collector of Feješ's paintings. Ivana Bašičević Antić, PhD, is the author of a monograph on Feješ's work published by the Museum of Contemporary Art of Vojvodina.
The Unusual Fate of a Talented Naïve
Emerik Feješ was born in Osijek in 1904 and grew up in a large family with fourteen children. Before the end of World War II, he worked in a factory that produced buttons and combs. Later, he often changed not only jobs but also places of residence. Due to illness, he had to leave his trade, and with such deteriorated health, he finally found his home in Novi Sad, where he discovered his love for painting and decided to become an artist. He was self-taught, and later became one of the most important representatives of art brut, naïve, or marginal art.
'Novi Sad as a city gave him an incentive that became decisive in his decision to leave his trade and become an artist. He had professional artists in his family, and that is certainly where the influence of his brave decision came from. Novi Sad exuded a certain kind of quite progressive energy in terms of art in general, and as a city, it was positively inclined towards new phenomena, which certainly provided additional strength to Feješ', explained Ivana Bašičević Antić, PhD.
Centar Novog Sada
It is interesting that, despite severe poverty, he found a way to express himself artistically. He replaced paint brushes with toothpicks, and instead of oil paints on canvas, he painted with button paints, on scraps of paper from a typist's shop. The personal stamp of his naïve art is the different shades of paint he used to 'colour-in' European cities. Our interlocutor points out that what makes an artist great is an authentic expression, and precisely because of his choice of unusual colours and toothpick application technique, the painting gets a completely different final appearance.
'At the time when he was painting, the so-called popular Naïve art movement included peasant painters, who, almost, as a rule, painted motifs from everyday life. As Feješ lived in the city and worked in a factory, his life was essentially completely connected to the city. From that point of view, when he started to paint, he thought about painting like a professional artist, which can be seen precisely in the fact that he initially painted nudes and portraits. My uncle, art critic Dimitrije Bašičević, organised Feješ's first solo exhibition, and his enthusiasm for Feješ's artwork was passed on to my father, a doctor, Vojin Bašičević, who often visited him and talked with him.
Ljubljana
How Did He Paint Cities He Had Never Visited?
He observed the world from postcards and photographs because he could not travel due to poverty. While painting cities, he sometimes added a few towers or facade sculptures to famous European buildings in order to 'beautify' them. There seems to be no other artist other than Emerik Feješ who has painted so many different European cities without ever being in them.
Our interlocutor points out that her father often commented on how unusual it was that Feješ created such bright paintings while creating in a narrow, dimly lit room, in very poor living conditions.
'His colours leave a strong impression on the observer, and the way he presents cities, although seemingly always the same, is actually not the case, because he depicts the spirit of each particular city', explains Bašičević.
He lived in the hope that one day, by selling his paintings, he would save enough money to see first-hand, the scenes he had created in his imagination and dreams. During his lifetime, he was not so lucky, but his wife fulfilled that burning desire after Feješ's death by selling his works of art and travelling the world.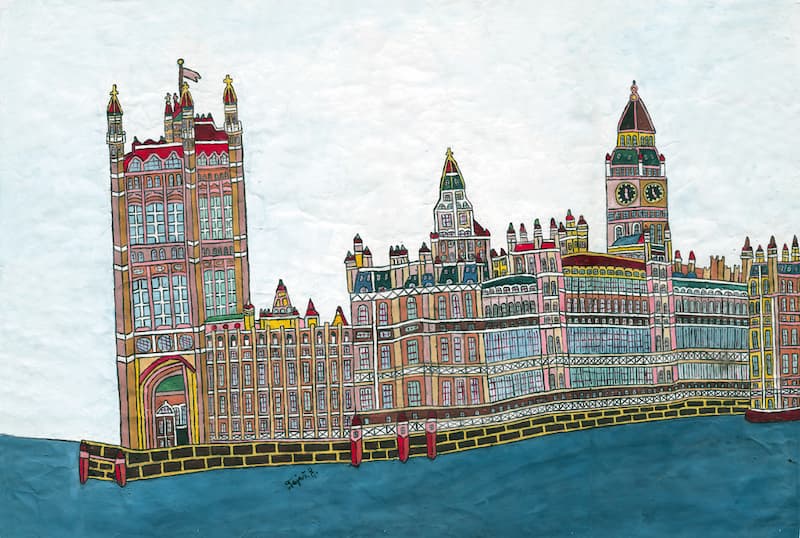 'Feješ is an important artist because he showed the strength of will and the power of creative vision that allows a person to overcome the obstacles of real life. His works entered important foreign collections, where they are exhibited to this day', concludes Bašičević.
Emerik Feješ died in 1969 in Novi Sad and was buried at the Roman Catholic cemetery on Futoška Street. The largest part of his artistic oeuvre can be found in the Museum of Naïve and Marginal Art.
Art brut exhibition Europe According to Feješ will present the incredible thirty paintings, from private and public collections to the Novi Sad audience, in cooperation with the Museum of Naïve and Marginal Art in Jagodina. During the exhibition, panels on the topic of marginal art in Serbia, in the European context, will be organised. Do not miss it!
Author: Marina Marić
Photo: Museum of Naïve and Marginal Art