The rebellious voice of urban Brazil will echo in the District in the finale of the Other? Europe programme arch! Rap artist Edgar will perform in the European Capital of Culture on 27 November and conquer the art scene together with Novi Sad rappers. The Novi Sad audience will be presented with engaging art and cyberpunk by a controversial Brazilian artist, who appears on stage in a mask. With his striking modern expression and song lyrics, Edgar will send a strong message for the end of the ECoC programme.
Brazilian rapper, multi-talented Edgar comes from a favela, and is known on the world stage as an artist who uses recycled materials to make his clothes and MPC to make music, crossing different segments such as fashion, music, visual audiovisual art, but also art direction. His debut album Ultrassom, with which he 'jumped' into the Brazilian urban scene in 2018, provides a dystopian view of the future of Brazil, yet is full of poetry. In anticipation of his appearance in the District, Edgar spoke to Visit Novi Sad about the problems of society and the environment, topics that are constantly intertwined in his art.
How do you feel about coming to the European Capital of Culture, where you will perform on 27 November? What are your personal expectations from the concert within the Other? Europe programme arch and what can we expect from Edgar?
There is a lot to choose from in a city where abandoned factories have become lively artistic centres and a historic fortress has been transformed into a venue for concerts and cultural events. I am looking forward to seeing as much as I can and learning as much as I can from my new friends from Serbia.
I try not to create expectations that can turn into a bad anxiety, I am looking forward more to a first date anxiety. Something closer to the thirst of a beginning of a relationship, I intend to deliver my best, I have a research within the visual arts and in cinema, not being able to bring my VJ is a loss in the narrative of the show. You can expect the show that was considered 2 years in a row the best show to watch in São Paulo.
You have been active on the Brazilian urban scene for four years, appearing in 2018 with the debut album Ultrassom (Deck Disc). In your songs, you speak about the problems of society and the environment. What phenomena turn your wheel of inspiration?
The phenomena that inspire me are the supernatural phenomena and natural disasters, the order of the chaos itself and the algorithm of the present time this that inspired me in these productions.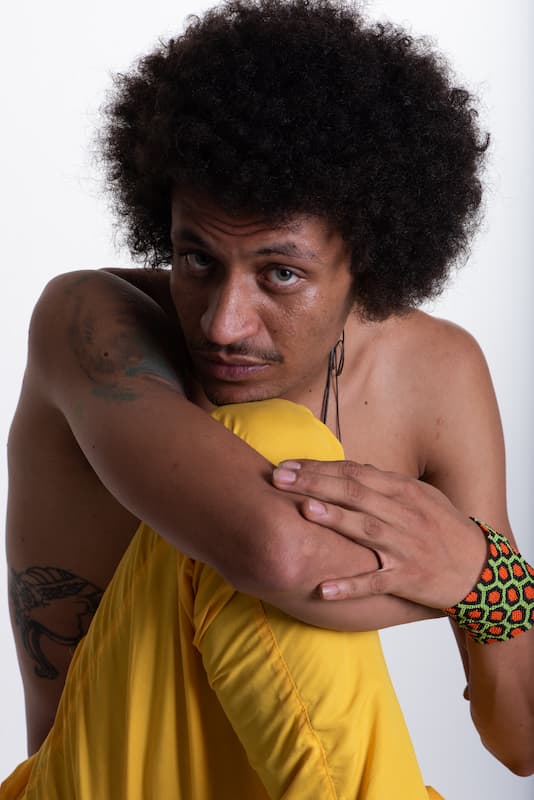 Your artistic expression brings together recycled fashion, music, visual and audiovisual art. How do you manage to connect these different segments and how do they set you apart?
I think art transmedia all the platforms I work on overlap, an example of how this inter disciplinary relationship exists in my work. I create a T-shirt with a print of a phrase from the song, this shirt becomes a costume for the video clip where dancers wear it, after the release of the clip, I wear it in the show, then the shirt is framed and put on sale in a contemporary art exhibition. So there is no end to the artistic objects I develop, they permeate plastic arts, dance, cinema and performance. The pieces and the ideas just evolve and pass of phase naturally.
How much can art contribute to spreading awareness about the importance of environmental protection?
Art has a fundamental role in describing a parallel future and an option to live with this future, the artist's function is between a shaman healer and a politician in dialogue with the people, if the artist does not criticize, he is in need of criticism.
You go on stage masked. What does a mask represent for you, do you see it as an object that hides or reveals a different face? What do your masks say?
The mask made of recycled material or with a more sophisticated finish in ceramics or other materials has the power to distance me from human physiology and erase the importance of the similarity of the bodies present, completely accentuating the voice and the text that is quoted. My masks are like mirrors, they only say what you yourself speak daily but never hear.
What do you think are the main differences between the Latin and European music scenes?
The main differences are relative, there are many Latins in Europe and many Europeans in America so there is a mutualism going on, not always reciprocal but there is a mutuality. Today, Koreans play samba, Danes sing reggaeton, Englishmen mix mantras, Indians with deep house, Frenchmen put their accent on African cells and Brazilians mix it all with Funk.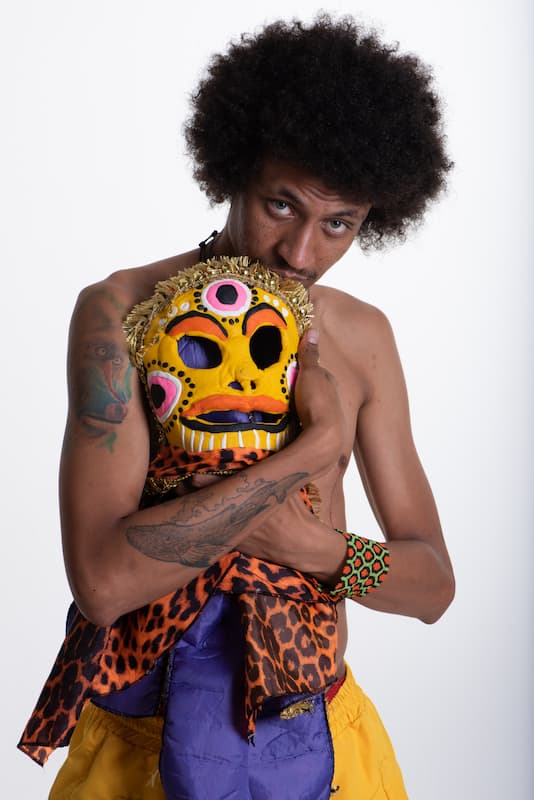 How much did growing up in a favela influence your work?
The favela is a source of inspiration and endless creation of subversive and daring thoughts in search of a better structure of citizenship and society. It makes me have a mix of gangster and social activist, we grow up hearing that those who are born in the favela have two paths, die at the hand of the police or be arrested. I and many other people in Brazil are proof that this sentence is completely wrong and that who comes from the favela can become a scientist, a movie actor or an international artist.
In cooperation with rappers from Novi Sad, you have prepared a single called 'Dollar, Lira, Euro' which will be presented at the performance at the SCCNS Fabrika on 27 November. How would you describe your collaboration?
Very happy to collaborate with Nidža and Rođeni on this song, we are not sure if the name will be the same but we really like the result.
It will probably be the first rap song with Portuguese and Serbian on the same track. I arrive a few days before the performance to rehearse and think supposedly a music video for this song. I wanted to thank dear Dražić for following and helping in everything. May it be a long time partnership and many projects. The collaboration is totally collective, but basically I do a kind of musical direction, besides getting the base with Abel and Cainã two Brazilian funk producers, I write my part and chorus already mapping the structure of the song.
Have you been familiar with the Serbian alternative scene so far?
I had already heard Sandra Afrika and Max Vicente, but I loved to know Nidžja and Rođeni has more to do with the sound I do, I'm curious to meet more artists of the current scene in Serbia.
Besides music and the stage, what makes you truly happy and what do you find satisfaction in life?
Well, I have won an award for the fight against racism in Brazil, I have done three fashion shows, directed music videos and this year I directed my first short film for cinema. Therefore, my satisfaction is to rest from an artistic project that ended well, thinking about when I will start the next one.
Author: Marina Marić
Photo: Luiz Garrido