A historical figure with a brilliant mind, Mileva Marić Einstein, is an unrecognised genius and a woman who remained in the shadow of her husband Albert in the world of science. Her life, character, and work have remained unfathomable and intriguing to this day, which is why she is the main heroine of Doček at the end of the European Capital of Culture title year, who we will honour through the multimedia exhibition Mileva: We Are One Rock.
For the first time, a large interactive exhibition at the City Museum of Novi Sad, on the Petrovaradin Fortress, will present the life and importance of Mileva to the global public, through the artistic prism of author Dušan Jovović, PhD, a renowned multimedia artist
The author will symbolically close the circle of the European Capital of Culture exhibitions, since his current exhibition Time and Universe in Novi Sad's Studio M was part of the official opening of the ECoC in Novi Sad on 13 January and attracted a lot of attention throughout the year.
Dušan Jovović, PhD is a multimedia artist and founder of the creative group Artbeat, one of the leading production companies for new media and the construction of modern museums, which has been active for 20 years. Their artistic oeuvre records more than 500 successfully launched projects, some of which were the first of their kind in the world. Today, Jovović is one of the leaders of the world's digital art, who will undoubtedly delight the Novi Sad audience once again with his creativity at the end of the year in which this city bore the prestigious European title.
In the midst of Doček and the opening of the exhibition at the City Museum of Novi Sad, which will cover an incredible 1200 square meters, we talked with the author about the importance of this scientist. At the exhibition itself, we will try to answer the question of WHO Mileva really was and we will re-examine the symbolism of the surname Einstein (one rock).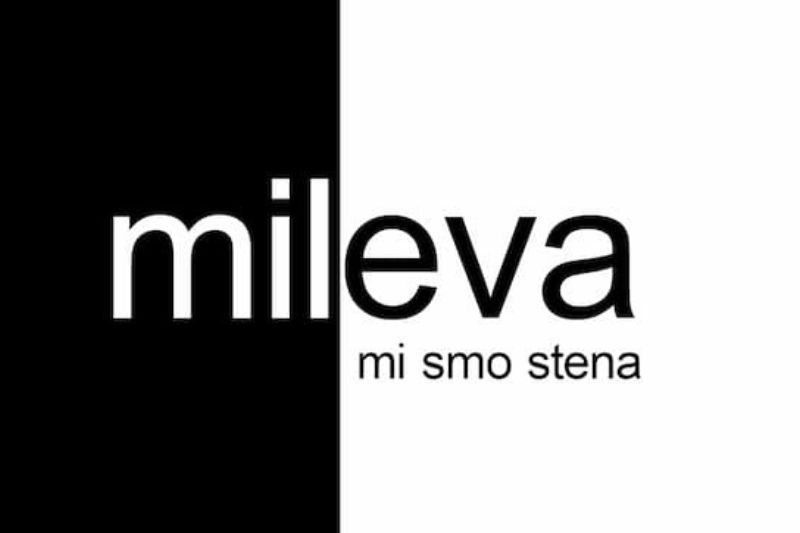 This year's Doček brings us a multimedia exhibition inspired by the scientist Mileva Marić Einstein. She is still an enigma to us, someone who remains unfathomable. How will we reach the answer with your exhibition?
The exhibition Mileva: We Are One Rock is designed as an interactive multimedia installation that puts visitors in the very centre of events and takes them out of the standard passive role. I designed the interior architecture of the space so that it will be able to receive a composition that will convincingly portray a story inspired by the brilliant mind of Mileva Marić. The exhibition consists of 12 units, I consciously divide the space in my composition into 'light' and 'dark' which form one unit and cannot exist independently. This work of art is certainly not a classic documentary or linear exhibition that we are used to seeing in our museums.
It is a great honour for the artist to have his work displayed in a cultural institution such as the City Museum of Novi Sad, which was partly reconstructed for this occasion. The space that I will 'paint' was inspired by the brilliant mind of the great Mileva Marić Einstein.
Mileva Marić's life was riddled with limitations, she was not given the opportunity to create, on the contrary, her brilliant mind remained in the shadow of her husband Albert. Is this exhibition a way to pay tribute to this heroine of science?
Mileva Marić is a beacon of science, culture, and courage, which illuminated a path full of challenges and now every future Mileva can step on it, and we must know that before her it was almost impossible. She was a gifted mathematician and physicist who created every day side by side with Albert Einstein.
Her light is too bright for me to perceive her as a victim.
The inspiration behind this exhibition was found in the letters she and her husband Albert Einstein sent to one another. What did you conclude from them? How would you describe your creative process ?
Records of the life and scientific work of Mileva Marić are quite scarce, and my research is based to the greatest extent precisely on the letters that were left behind by Albert and Mileva. This is certainly a problem that divided and continues to divide the professional public when it comes to her role and merits in scientific work, and it is by no means my intention to dispute the character and work of Albert Einstein. However, this does not exclude the fact that she worked daily, without any hesitation, on projects that bore the signature of her husband. Let's just look at the year 1905 and the papers published in the journal Annalen der Physik.
As an artist, I did not conduct this research alone, but with the great help of the Novi Sad – European Capital of Culture Foundation and the City Museum of Novi Sad, which has a certain number of these letters in its possession. The biggest challenge was certainly the reconstruction and construction of the space, which was very complex technically. We had to create a setting that would resemble Mileva's soul, and I think we will succeed in that.
It seems like you successfully blended science and history with contemporary digital art while creating this exhibition.
Some would say that art relies on emotion, and science on proven facts, however, they form a single universe. The human spirit seeks the explanation of its own soul, which is why the creative urge that wanders these paths is similar between scientists and artists. I find inspiration in everything, and everything that touches me finds its way into my work sooner or later. I let my heart talk, and I don't deliberately choose what will prevail and find itself in the physical space.
We have mentioned that the exhibition about Mileva will close off the ECoC title year, whereas your exhibition Time and Universe, inspired by Milutin Milanković, was part of the grand opening on the 13 January this year. How do you perceive the symbolical closure of the circle of artistic work celebrating two extraordinary scientists – Mileva and Milutin?
Time and Universe is an artistic and philosophical exhibit, which I worked on with Professor Aleksandar Petrović – this collaboration resulted in the most-visited art exhibition in Serbia. It uses the same language, which the exhibition by the name Mileva: We Are One Rock will use. They are both circular, without a starting or finishing point, but there is a line which contains the past while simultaneously looking at the future. I would like to congratulate everyone who took part in such a major and successful project as Novi Sad – European Capital of Culture is. All of those who haven't had the chance to visit Time and Universe yet, can do so every day, excluding Sundays and Mondays, from 12 to 8 p.m., at Studio M in Novi Sad.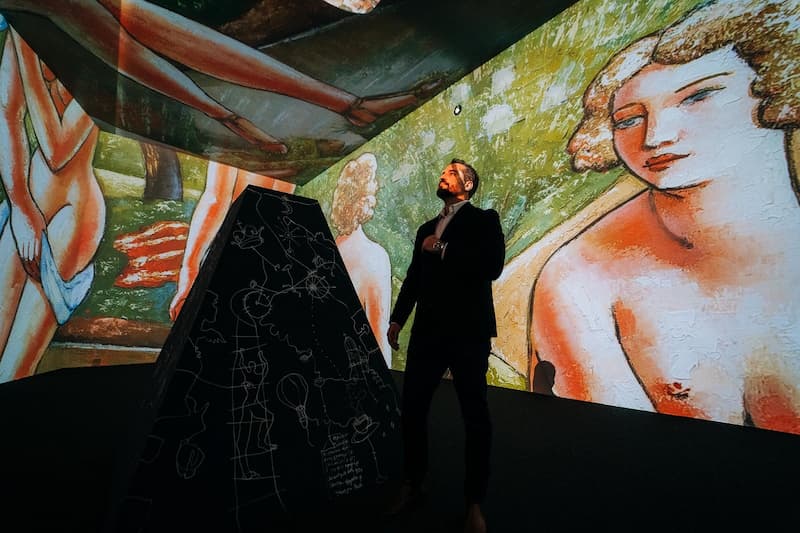 In addition to, as you said, these two exhibitions forming a circle without a starting or finishing point, how are they further connected?
They actually form one work, rounded off in the inspiration I found in these two great minds, but I left some room for further research. Time without order does not exist, nor do science and creativity. Visitors will be able to see both exhibitions side by side, and I sincerely look forward to that, because only then will this cultural and artistic experiment gain complete meaning. Nature, science, and art represent an inseparable part of the space in which I move and which I use for inspiration, technology comes as a consequence of modern communication. This form of communication is comprehensible to all generations, and we had the opportunity to see this with Time and Universe, where the bearer of the spirit and unlimited time is represented by a bee, and with Mileva the bearer is a firefly. I found inspiration in her stay in Titel when she watched the choreography of fireflies above Titelski Breg. One of the rooms in the Museum will be dedicated to this very moment.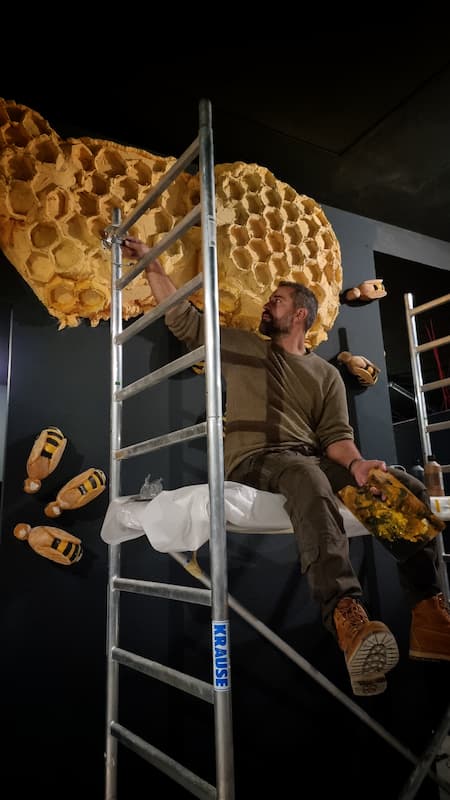 How do you expect visitors to experience Mileva? You stated once that it is interesting for you to observe the audience from the sidelines and monitor the reactions.
This work of art is certainly not a classic documentary or linear exhibition, which we are used to seeing in our museums. A large number of people have had the opportunity to see the works of the Artbeat group so far and know that we are in for a very interesting artistic experiment, to say the least. I will use kinetic interactive sculptures, mapped 3D art projections on scenographic elements, holograms, digitally designed sound, and augmented reality, but I didn't give up on classic art techniques such as drawing, painting, sculpture, or light.
Authors: Milana Milovanov and Marina Marić
Photo: private archiv