A walk through the city cannot go without stopping by the charming Art Nouveau buildings of Novi Sad. One of the classics of architecture is the Tomin Palace. The storey palace, with four spacious apartments, was built way back in 1909 on the former Žitni Trg (today Marije Trandafil Square 12).
Style
It was built by Jovan Jerković, a rich grain merchant. For a rich Serb to build a house in the Art Nouveau style was a serious precedent. The designer of the building was a Budapest architect Lipót Baumhorn. He was very active in Novi Sad, implementing five projects, of which four palaces and the dominant complex of the Jewish community with a synagogue, a school and a municipality. Baumhorn is a distinct representative of the Art Nouveau  style, which was current in Europe at the end of the 19th century. The style in Novi Sad is analogous to the so-called Hungarian Secession, thanks to Hungarian designers who signed numerous projects. This means that there was not only a provincial superficial imitation of the style in the form of plaster decoration on visible street façades, but the buildings consistently respected the spirit and features of the Art Nouveau style. There is an impressive number of representative Art Nouveau buildings in Novi Sad.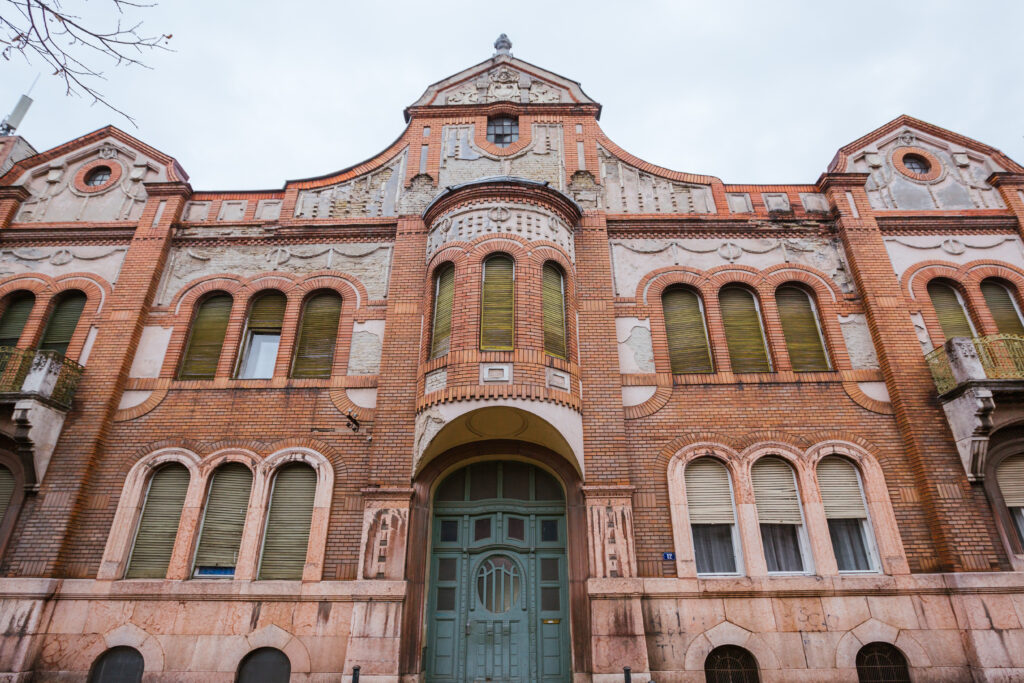 Architecture
The base of the palace is the Cyrillic letter P. Together with the courtyard ground-floor building, it forms a unique building block. The courtyard area is paved with clinker bricks.
The façade is made of a combination of three types of materials: façades brick, pink stone and plaster. It is in this palace that we come across one of the first examples of the use of reddish/pink artificial stone in this area. Building plinths, portals and balconies are made of it.
The upper zone of the façade is decorated with three elegantly curved gables, which divide the façade vertically. The windows are semicircular, and there are also monoforas (a type of window opening with one arch), biforas, triforas and oculus. A semicircular bay window is centrally placed above the main entrance, which is the dominant element on the façade.
Two balconies on stone consoles, with striking wrought iron railings, are located on the side frontages. The decorative ornaments on the entrance gate and the walls – the motifs of masks, plants, electric lanterns, etc., are completely in the spirit of Art Nouveau style. The basement space occupies the entire area of ​​the house and has a Prussian vault.
After the death of Jovan Jerković, the heir to the palace was his widow, Dana the teacher. She sold one apartment in 1931 to lawyer Žarko Tomin (which was confirmed by his son), while the other three apartments were later nationalized. This fact introduced confusion into the ownership of the palace and into its very name.
Author: Ljiljana Dragosavljević Savin, MA Historian