Mileta Poštić, a renowned artist and professor from Novi Sad, is one of the authors of the Sekvence Grada exhibition, which was installed on 49 masts on Suba's Plateau in Liman Park. The fifth exhibition at Novi Sad's first open-air gallery brings together the works of local and foreign artists, and we invite you to visit it. In an interview for Visit Novi Sad, we talked with Poštić about the striking illustrations that will certainly attract your attention when you pass by this Novi Sad park.
Mileta Poštić is one of those versatile artists whose work goes beyond the boundaries of artistic creativity. He studied and taught all over the world, on four continents, and in addition to being the founder and professor at the Department of Animation at the Academy of Arts in Novi Sad, Mileta is also the storyboard director of the production company Iervolino Entertainment, as well as the director of the Furuna animation studio. He is also a special adviser to the Ministry of Culture of the Republic of Serbia, as well as an excellent animator, illustrator and author of the book 99 Recipes For An Extremely Happy Life, which he also mentioned in the interview.
Could you tell us about the concept of your works that complete the Sekvence Grada exhibition and how challenging it was to respond to the given topic?
I have to admit that I did not start thinking on the given topic by imagining the sequences of the city of Novi Sad. I began to think about how, in that sea of flags that are tall, upright, and thick, any picture will attract attention. Any image today is fighting for attention, most of all with luminous, interactive, moving and sound images from our mobile, which we view hundreds, if not thousands, during the day. So, I went through the pictures I have saved on Instagram, the pictures that made me wish to save them, and then I thought further. I also wanted the colour palette to be uniform and stronger and for the silhouette of the shape to be sufficiently spread out due to the partial transparency of the material. In the end, I reduced it to a series of figures without a background with the intention of causing the passer-by to look at them at least a little longer, and maybe remember them for some time. Otherwise, I really like the concept of the gallery in the open and on the flags, and I appreciate the work of both the gallery and the curator. It was a desirable challenge.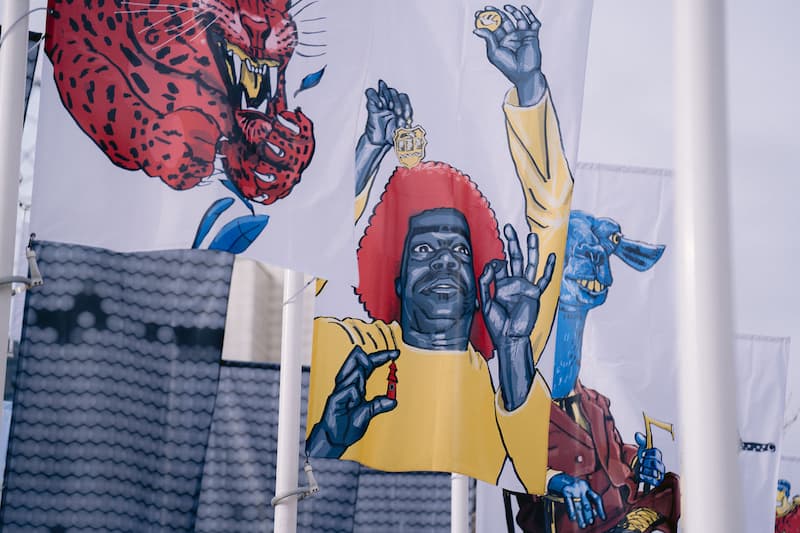 In your opinion, what is the significance of such an exhibition at the first outdoor gallery in honour of Mitar Subotić – Suba?
I like Suba as a musician, especially one or two of his songs. The importance of such an exhibition is that it goes beyond the usual framework of the gallery, offers alternative material and circumstances of observation and broadens the audience. The Bel Art Gallery and Vesna Latinović have had a fresh and interesting approach to contemporary art for a long time. Sava Stepanov also has a professional vision of the works of local artists and their scope. They are also the strongest non-institutional initiative in that domain for at least the last decade, and I congratulate them on that.
Have you had any experience with exhibitions of a similar concept in which artworks are displayed on flags and masts?
I have never had such an experience. I have had experience presenting on different surfaces and contexts, but not on flags and masts.
What experiences did you have working in projects within the ECOC title year?
I personally helped to create the exhibition From Neven to Batman – 150 Years of Serbian Comics in the District, especially with animations, and I had extremely good experiences there; it was an honour and a pleasure to work on such a grateful topic and content with much greater resources than usual.
The whole approach and way of working of people from ECoC was very modern, professional, efficient, generous and useful. They introduced a completely new, European, serious approach to the organization of art events, and a lot of resources, which will result in new beautiful spaces, good work experiences, increased standards and adopted work methods and techniques. It is a huge jump in working conditions and standards.
Are there any professional challenges you would like to deal with in the future?
Professional challenges related to personal art work have been standard for several decades. To be more authentic, more exciting, more unusual, more likable, etc. I am trying to balance jobs. I hold the Animation and Visual Effects Department at the Academy of Arts, which I am trying to improve in every way, to make it not only a better programme, but also better collaborators, better candidates, better works. I am also trying to improve two animation studios, in one to contribute and learn as much as possible, and in the other to apply what I have learned – to improve creativity, efficiency, quality, etc. In my position as a special advisor to the Ministry of Culture of the Republic of Serbia, I try to see the problems and help to improve things. My wish is that we can also be drawn on the map of places where good things are happening, so that people have the feeling that they are in the right place at the right time, and not to dream of leaving here forever.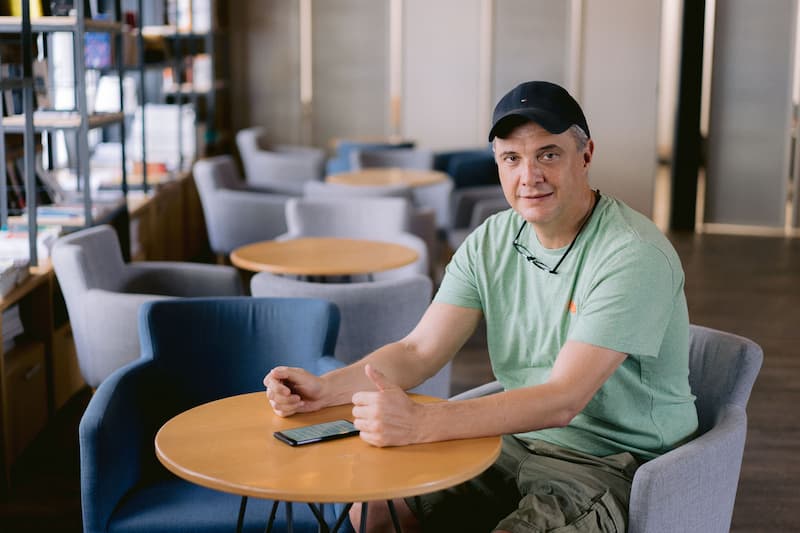 When we look back on the ECoC title year, how do you see your home-town now and how much did the flattering title contribute to the development of culture in the city? To what extent did it revive the art scene of the city?
It came to life by bringing in people from outside, and by financing, implementing and promoting local artists and projects. The ideas were good and appropriate, and the implementation was excellent. Of course, there were mistakes, but considering the volume of work, proportionally small. The quantity was extensive, and a lot of quality remains. Everything has been raised to a much higher level, but now the expectations, criteria and experiences are much stronger.
Your artistic oeuvre includes a published book of recipes for an extremely happy life. What makes you extremely happy?
Yes, thanks for reminding me of my recipes. Those 365 things illustrated in the books make me happy. In the context of the previous statements, the fact that it is almost impossible to compare the time of 20 or more years ago, when so little happened here, when Izba was the most important place for artistic events, and now it has been increased hundreds of times, makes me happy. And the Animation Department that I founded at the time did not have a single studio in the country to emulate it, and now there are many good ones in Novi Sad. If in the next 20 years the pace of growth would follow that course, we would be a well-recognized creative environment.
What cultural events you do not miss in your city?
Unfortunately, only those that I am invited to open or say something about them. There are so many great things that I miss, I could make a top-list out of them.
Author: Marina Marić
Photo: Vladimir Veličković