Dunavska Street is believed to be the oldest street in the city and the most 'Novi Sad' street there is. 'Dunavska' is the name a lot of streets in Serbia bear, but this one is pronounced differently, with a long accent on the second syllable.
Although this alley in the city centre preserved its former looks and baroque aesthetics of the 19th century, modelled on the similar streets of the Austrian and Hungarian cities, Dunavska used to be more oriental and Turkish, owing to the merchants and craftsmen from the Turkish regions in the Balkans.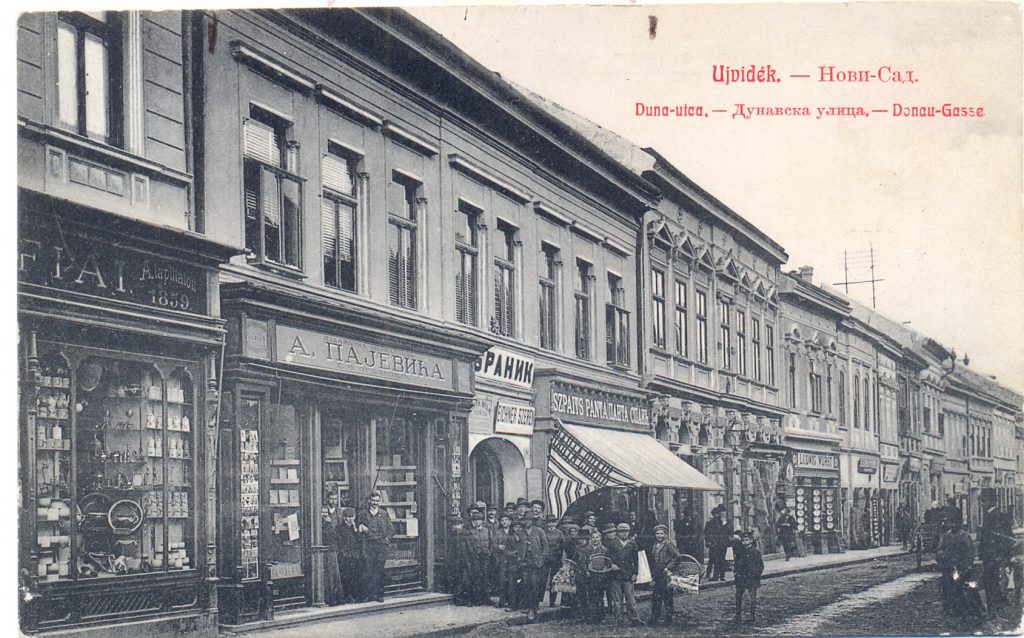 The Greeks and Aromanians who inhabited this area built oriental, i.e. Balkan-type houses, with the little shops or craft workshops on the street side. The streets used to be narrow and winding, covered with the eaves of the houses that almost got to the point of touching in the middle of the street. Before the Uprising, Dunavska looked like a Turkish town. The writings of a famous politician
Mihajlo Polit Desančić
, testify to this. In his memoir 'Uspomene' (En.
Memories
) he speaks of Novi Sad, saying:
'It was a patriarchal and half-oriental town. People used to sit on the benches in front of the houses, literati talked and argued, merchants and craftsmen sat in front of their shops in oriental clothes, with the slip-on shoes and chibouks, talking in Greek.'
The alley was considered a lucky trading place among the Novi Sad merchants, which was crucial for the superstitious Greeks and Aromanians. Regardless of whether it brought luck or not, Dunavska had a favorable position, since it used to connect all the central streets with the market. Therefore, being connected to the market, Dunavska Street was connected to the Danube River and Srem as well. Amidst the ruins of a house in some backyard, archeologists found remains of a Turkish bathroom from the 18th century, which leads us to conclude that the former inhabitants of this area, mainly Greeks and Aromanians, gladly indulged in oriental pleasures and habits. Some time later, this street will become the printing centre of Novi Sad. Unlike the Pannonian-type houses, which were built from better and stronger material by the Serbs, especially those built by richer merchants and members of the city authorities, the oriental Balkan-type houses were built mainly from wood, and they all got destroyed during the Uprising in 1849. Their houses set up the city, formed straight and wide streets which will eventually set the example of urban development.
Author: Ljiljana Dragosavljević Savin, master historian
Photo: Museum of Vojvodina