You may have already noticed the interesting display at the Liman plateau, which consists of 49 artistic flags on masts. Novi Sad, as the European Capital of Culture, got a new art space, its first open-air gallery at the Suba Plateau, dedicated to the pioneer of electronic music – Mitar Subotić Suba. The MigrArt exhibition that adorns the new gallery space was organised as part of the Migrations programme and includes works by contemporary artists from five European Capitals of Culture on the topic of migration in art. The project was realised in cooperation with the Bel Art Gallery.
Through the MigrArt exhibition, the Novi Sad audience is introduced to seven artists from former, current, and future European Capitals of Culture: Réka Huszár (Hungary, Veszprém 2023), Alain Welter (Luxembourg, Esch 2022), Marina Milanović (Serbia), Alena Klaćikova (Serbia), Danijel Babić (Serbia), Are Andreassen (Norway, Bodo 2024), and Leo Kirinčić (Croatia, Rijeka 2020).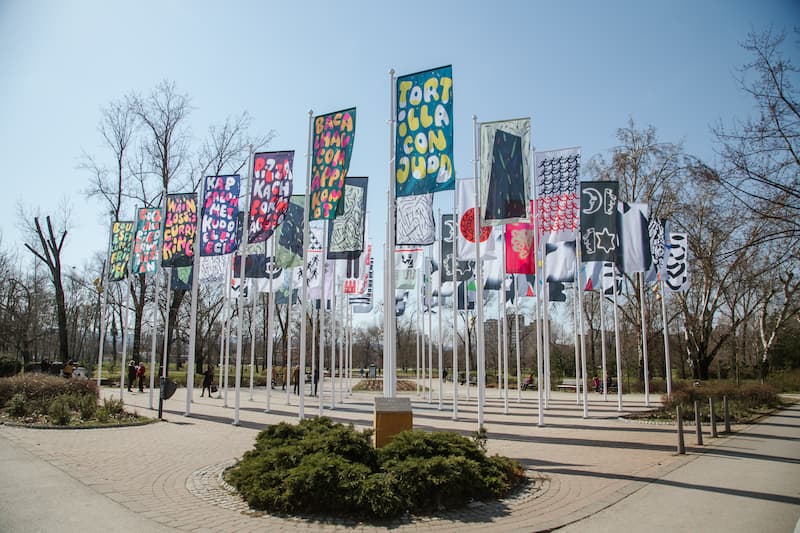 We took the opportunity to talk to three contemporary artists whose fantastic works depicting migrations flutter on 49 eight metres high masts. Award-winning Novi Sad resident, Alena Klaćikova, a Youth Talent Fund scholar who works as an assistant at the Bel Art Gallery and already had some success in lithography in Germany, points out that it is the duty of art to re-examine and investigate migrations, hoping to understand each other a little better. We also had a talk with the talented illustrator and muralist Alain Welter, who comes from Esch in Luxembourg, a city that, along with Novi Sad, also won the ECOC title this year. Fashion and 3D designer Réka Huszár, who came to Novi Sad from Budapest to depict migrations from her point of view, shared her impressions on the exhibition, and on the general topic of migration in art. Her works will also be among the showpieces placed on the masts on the Suba Plateau.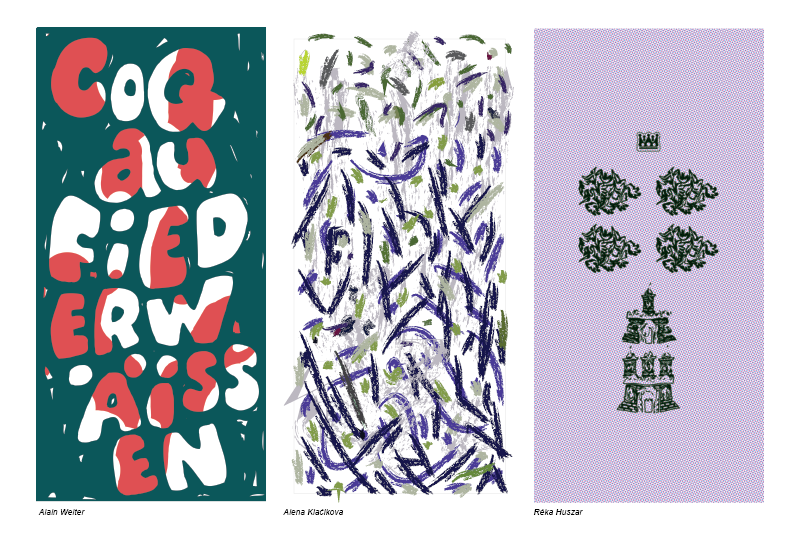 For starters, can you tell us more about your work that will be a part of the MigrArt exhibition? How can we present the topic of migration through this Novi Sad exhibition, but also the history of migration of the country you come from?
Alena Klaćikova: I dealt with the concept of migration and took it as a universal motive so that it is not specifically related to our country or a certain migration period. Through this series, I tried to present the movement, circulation, fluidity and flow of a multitude of individuals and their consequent transformation in relation to the altered background (environment). I focused on that change that happens after migration, the change of the individual in relation to the environment and vice versa, the change of the environment that mutates and becomes a newly formed whole.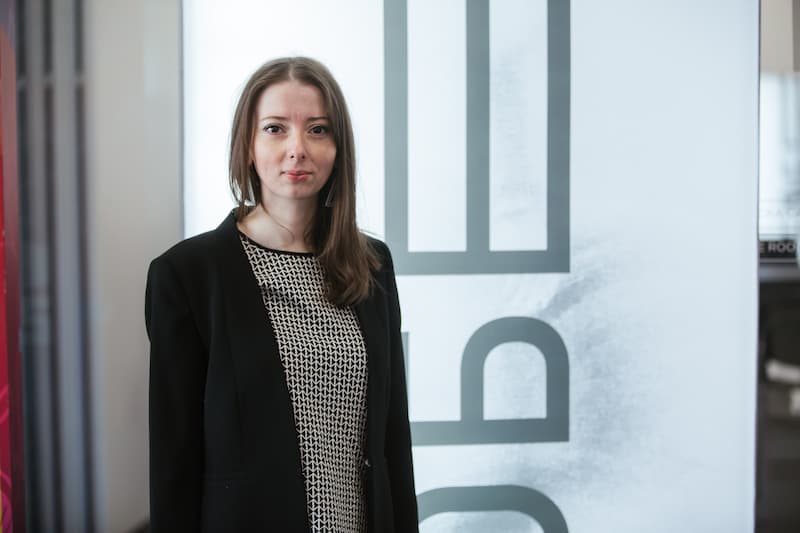 Reka Husar: Migration is a very important topic especially nowadays. However my projects are always very personal, so for my flag collection, I drew inspiration from my own past. My story had begun in Veszprém, but I have lived in Rotterdam, in Madrid and in Budapest as well. I chose to move because of better opportunities, jobs, or even the pandemic affected my route. My flag designs are based on the coat of arms of the cities I have lived in. I mixed the symbols of the cities with the aim of referring to the 'melting pot' effect. Migration provokes a cultural diversity where traditional signs and customs are mixed and blended. I rasterised the final images so the symbols and gradients are results of small dots. For me, this symbolises togetherness and diversity.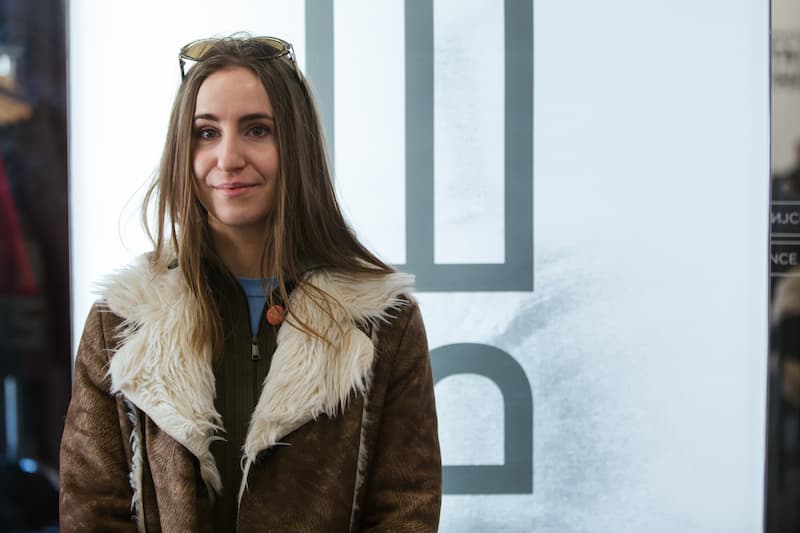 Alain Welter: For the exhibition 'MigrArt' I am focussing exclusively on the migration in my home country. Since my art has a lot to do with humour and irony, I picked up characteristics from the individual countries and relate them to those from Luxembourg. In this case I chose to take the viewer on a new culinary experience, by mixing a speciality from each country with specific products from Luxembourg. This creates a new funky mix of nations and cultures that (yet) never happened in reality but are absurd and funny in its own way. As my creation and composition of typography is normally pretty much clean and contains a whole DNA through the letters, this time however I decided to work in a sketchy or vague way, since the culinary formations are fictitious and don't contain a precise form of execution. Considering the colour palette, I used the flags of each country as a base. But since it's a culinary mix, I chose to interchange the colours of the background or the typography.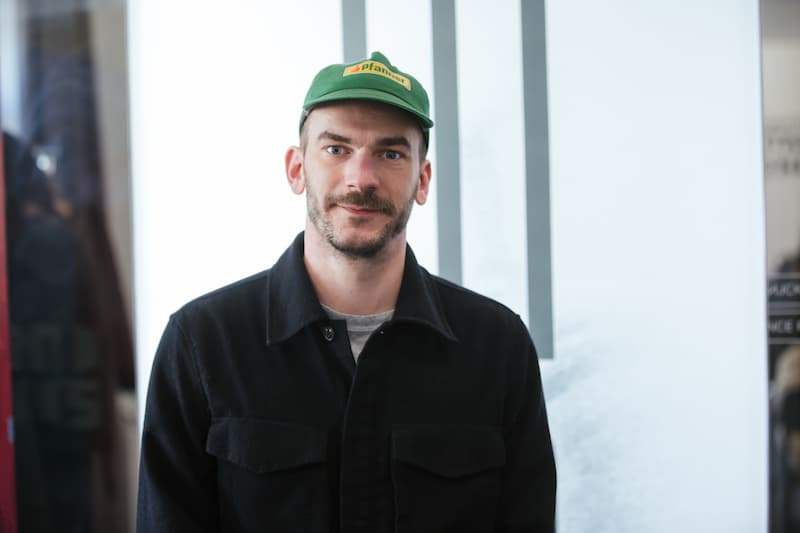 Alain Welter
How do you view the always current issue of migration in the context of art? Have you been through the migration process yourself during your life?
Alena Klaćikova: I haven't moved often, but I am sure that the issue of migration is close to people from our region in a direct or indirect way. Art is a reflection of our social, psychological, and emotional state and as such, it always deals with fundamental, contemporary issues. It is difficult to follow and understand the consequences of current migrations in general, but they certainly bring about numerous changes. Art has a duty to re-examine, research, experience and present them to the public, in the hope that we will understand each other a little better.
Alain Welter: Art should always be a matter of migration, because it should be accessible for everyone and everyone should have the possibility to be part of it! That's why I love public art, because it's ment for everybody without forcing anyone to deal with it.
I come from a small country which grew a lot through migration. But my ancestors came to Luxembourg such a long time ago, that I didn't experience any migration process.
How is the cooperation of seven artists going, having in mind you're not only connected by art, but also the fact that you all come from former, current, or future capitals of culture?
Alena Klaćikova: The fact that we are all representatives of the former capitals of culture is the thread that connected us. We did not work on the project together, instead, each of us presented our idea within seven flags. We approached our work individually, with different takes on the same topic. I think that has resulted in great diversity and that observers can see seven points of view on the same issue. My collaboration was primarily with the curator of the project and the organisers who gave birth to this wonderful concept.
Reka Husar: It is a very interesting connection since we haven't met yet. I can state that this is a virtual connection at the moment. The nice thing about technology is that people with different backgrounds from different places can have the opportunity to unite. I think that his mast will represent this union and connection as well meanwhile dealing with the topic of migration.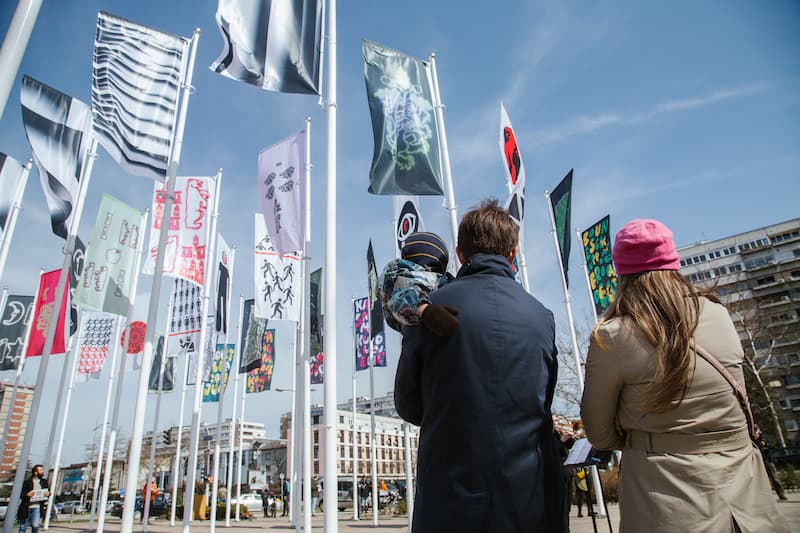 Have you had any experience with exhibitions of a similar concept to MigrArt, where works of art are displayed on flags and masts?
Alena Klaćikova: No, I haven't had a chance like this before. I really enjoyed working in this unconventional medium and I think that is why the art solutions were fresh and completely different. I am especially happy about the opportunity for an outdoor exhibition, we need more of that.
Reka Husar: I haven't had any experience in designing flags so it was very challenging and inspiring. Flags are using well-known symbols to identify a particular entity. However, nowadays the meaning of it is questioned and challenged due to migration. The contemporary multicultural life-flow is a remix of cultural identities and national, traditional heritage, we are constantly creating and reproducing a cultural melting pot.
Alain Welter: This is the very first time and I'm glad to see the final result soon!
How do you see your own city or other cities in the light of the title of European Capital of Culture? How much does such a title in a city contribute to the prominence of young artists?
Alena Klaćikova: To tell you the truth, the title is not very important to me. It deals with a form of spectacle that is completely foreign to me. I am glad that there are new platforms for cultural events, that there is a support system for art and culture, and thus much-needed opportunities for young artists. I am very grateful for the opportunity presented to us. I think the size of the contribution will show over time. That which endures the test of time will prove to be a cultural contribution.
Reka Husar: I think being part of the European Capital of Culture family opens up possibilities and opportunities for young artists. But not just as an artist, but as a citizen, I feel that it gives lots of energy and vitality to the participant cities. Large-scale constructions and cultural developments have begun in Veszprém recently.
Alain Welter: I think this can be a very big enrichement to ask ourselfs who are we actually? what do we represent? and how do we want to embrace people from abroad with our cultures and traditions. On the other hand, being in the light of the title of European Capital of Culture gives a good opportunity to young and local artists to proof themselfs and show the world what they have to offer.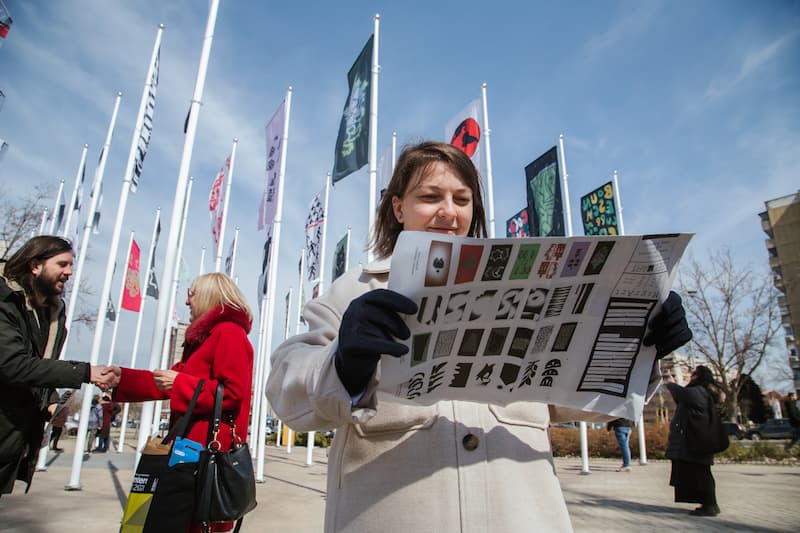 How do you feel about the Migrations programme arch which emphasizes the importance of migration and its positive effects on art and culture?
Alena Klaćikova: The issue of migration is very interesting to explore. It is one of the essential issues of today. When I think about the Migrations programme arch, what left a special impression was the exhibition of documentary photographs (UN)SETTLED, which speaks of a serious problem for which we yet need to find a solution. The observer is confronted with the reality of the given situation, which he may think about in more detail thanks to these authentic documents and the testimonies of displaced migrants around the planet. This exhibition deals with the most terrible consequences and thus sheds light in places that we often do not dare to look at ourselves.
Reka Husar: It is important to highlight the positive effects of migration on the culture and on the art sphere. I think migration forces society to be open, to accept and to change. Therefore it always involves experimentation and co-creation. It produces a multi-cultural life-flow that is open, diverse, vivid and vibrant.
Alain Welter: I'm always a big fan if art and culture brings people together and provokes an exchange of a common topic. It's always an enrichment. I think that nowadays, it's very important that we look on the positive effects of migration, if we want to cohabit in our world of a constant increasing globalisation. Spread love is the message!
Author: Marina Marić
Photo: Marko Pudić