The third Autonomous Festival of Women (AFŽ) is being held with support of the 'Novi Sad – European Capital of Culture' Foundation, during the Heroines programme arch and will last until the end of the week. AFŽ was founded two years ago as a festival that opens public space for marginalized topics related to women; the topics very important for society as a whole such as violence against women, women's labour rights, women's health, women's position in art, science, entrepreneurship, and women's creativity.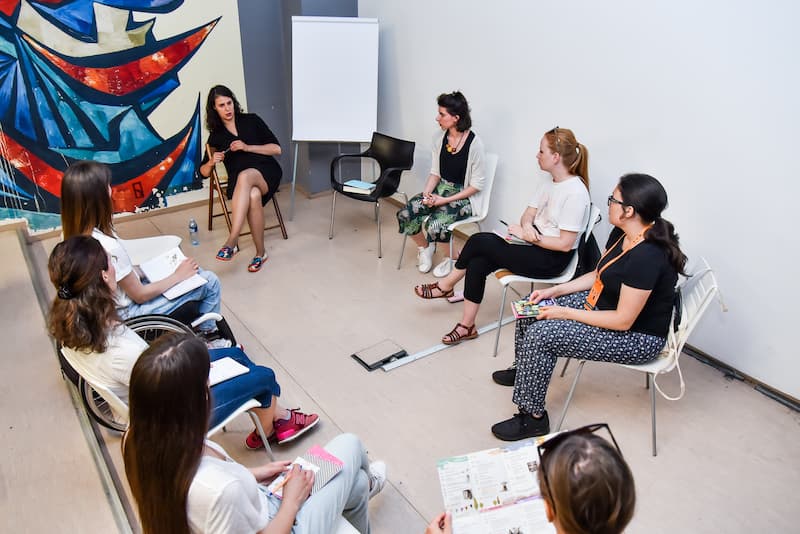 This year, women's creativity will be presented every day at the Women's Bazaar that will provide an opportunity for creative entrepreneurs to present their unique products to the Novi Sad audience. The Women's Bazaar will be held every day of the festival on the plateau in front of the Museum of Contemporary Art of Vojvodina at 5 p.m. until 12 June. Today we introduce you to several creative ladies you will find there and their original, colourful, cheerful and delicate products that you have the opportunity to buy and support these great WOMEN!
Cosmetic is prepared by @ivynaturalcare
You will find handmade natural cosmetics with extensive knowledge behind this Instagram profile, as well as at the Bazaar. If you appreciate body and hair cosmetics that have not been tested on animals, Ivynaturalcare is for you – and the same is true if you do not like synthetic fragrances. Bonus points for tastefully designed packaging!
Wear colours with @angelic_fantastic
If your style is similar to that of Morticia Addams, skip this angelic clothing brand from Novi Sad. However, if you like to dress colourful, you will adore T-shirts, dresses, bags and other pieces of the Angelic Fantastic brand! It is up to you to choose the motif: a Basquiat rosary, a camera, a comic strip, colourful rain from clouds… or colourful bugs, a symbol of AFŽ.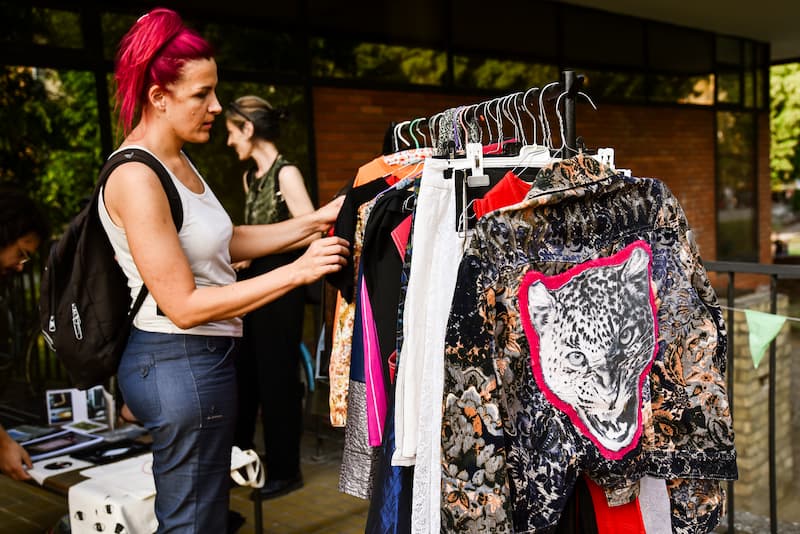 Greeting cards, envelopes and everything made of paper by @papirimakaze
'Pack love', says the architect Vesna Jakovljević behind the Papir&Makaze brand. Vesna makes everything from paper that you can think of: unique greeting cards, invitations that will be 'instagrammed', carefully designed labels for equally carefully designed small brands, and stickers for your diary or laptop.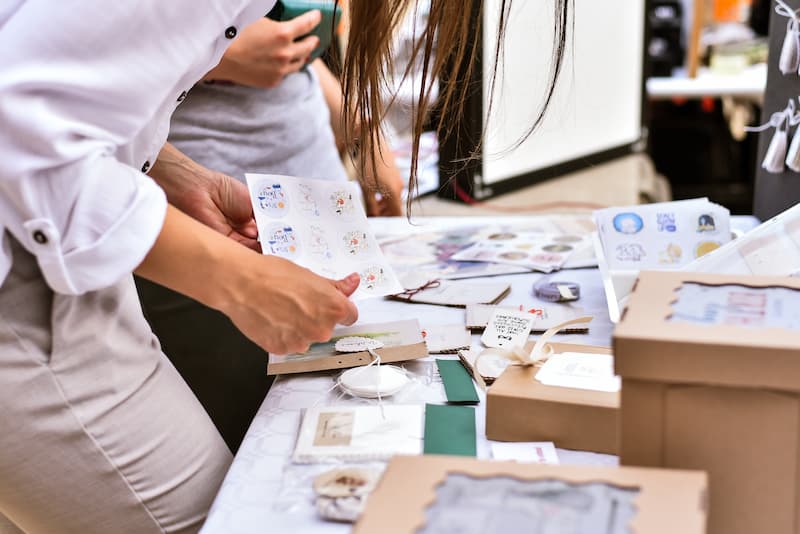 Spruce up the look with an accessory Vanille by Sonja Madzar
Sonja makes handmade accessories for, as she says, little and big girls. You will not resist these delicate and feminine hair ornaments – headbands, hairpins, rubber bands, etc. – as well as unique pieces of jewellery!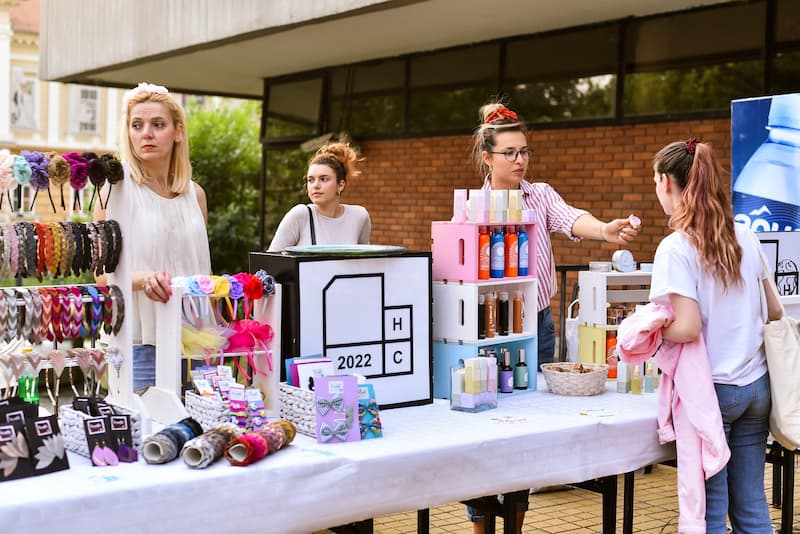 Enrich the space with lines Linniart
What can come from the line? You will get at least a part of the answer to this seemingly unusual question at the Bazaar at the Linniart stand. Linniart is, as they say, 'the art of connecting lines' – and these are line sculptures like you've certainly never seen before. You can use them as a decoration on your desk, a floor sculpture, and you can also hang them on the wall or buy a two-dimensional version – an illustration that will fit perfectly into the frame.
Get ready for school with the Alphabet in pictures – Azbuka u slikama 
Parents of pre-schoolers will surely like the Alphabet in Pictures poster designed by teacher Tamara Ostojić Gregus. The alphabet in pictures, with its cheerful illustrations, is a poster with thirty pictures that have the shape of the initial letter of the word represented by the picture. Just in time for September!
Adorn yourself with jewellery Tangled Up
Handmade jewellery by Ana Armački is not only creative, but is often created by so-called 'upcycling', i.e. turning discarded things into something new and interesting – for example, you can find a floral brooch made of pistachio shells! It's up to you to decide what suits your style and sensibility the most: reduced geometric lines, stones, rainbow colours, etc.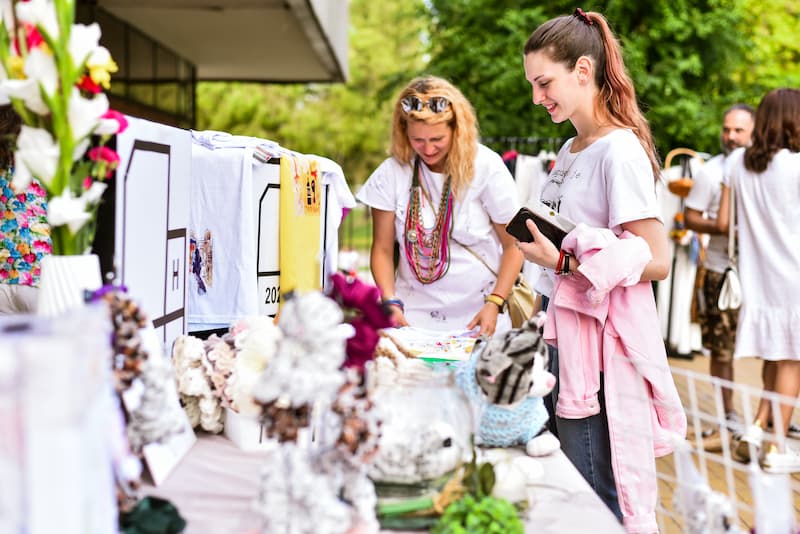 Dress up a ponytail with Oxy Srbija
Maša Milić is the owner of the Oxy Srbija brand, which specializes in making rubber bands and turbans for hair. To hold on tight, but not ruin your hair, Maša makes rubber bands from satin, plush and organza, in countless shades. For a step beyond, opt for animal print or polka dots!
You have just enough time until the end of this week to set aside at least one afternoon to stop by Museum of Contemporary Art of Vojvodina and support these ladies by buying one of their products for yourself or a loved one!
Author: Tihana Smiljanić
Photo: Promo/AFŽ