One of the most famous vocal ensembles in the world, Perpetuum Jazzile, will sing in the Suburbium of the Petrovaradin Fortress on New Year's Eve, 31 December.
The world-famous Slovenian sensation, singing in different languages, will take us on a spectacular journey around the world and through time. Perpetuum Jazzile is recognisable for the fact that they transmit fantastic energy and creativity to the stage, by using only their voices and bodies, through the most diverse musical genres and unique arrangements of songs by the biggest stars such as David Bowie, ABBA, Toto, Joni Mitchell, Michael Jackson, Lady Gaga, etc. They have over 90 million views on YouTube, and if you have not had a chance to watch their most famous performance of Toto's Africa, which has amassed an incredible 23 million views, prepare yourself in advance for a spectacular performance at Doček.
While awaiting their New Year's performance in the Suburbium, where they will perform on the stage near the Belgrade Gate starting at 9 p.m., as part of Doček 2023 in the European Capital of Culture, we spoke with the members of this vocal ensemble whose arrival in Novi Sad we are eagerly counting down to.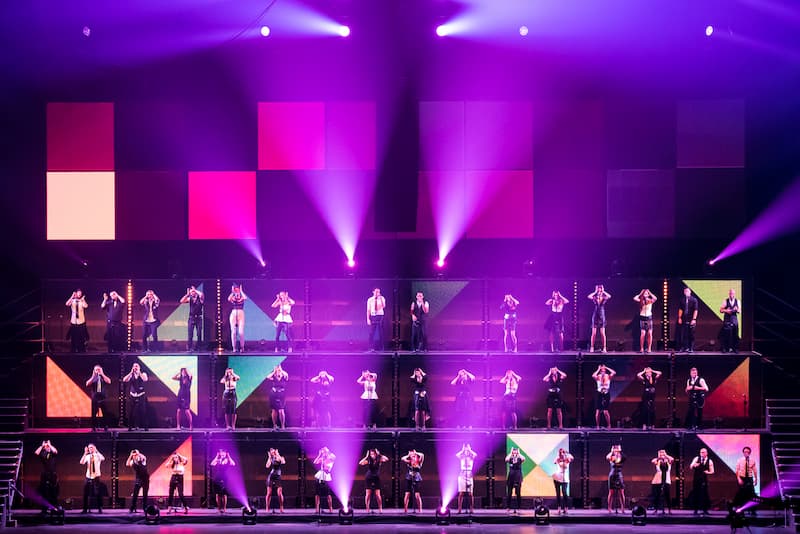 Incredible artists with brilliant energy – it seems that the citizens of Novi Sad are beyond eager to listen to hits in your specific performance. What have you prepared for Novi Sad and Doček this time around?
Vocal ecstasy. Our greatest hits and many surprises. Mostly vocal orchestral arrangements of songs that practically everyone knows. A great time is guaranteed.
What is specific when it comes to your performance on stage is that it happens without instruments; the music is created by almost 40 musicians with your mere voices and body movements. One question that everyone undoubtedly wants to ask is how do you achieve that perfect uniformity? How challenging is it to sing a cappella, while creating sounds by using your entire body?
All singers had to go through quite a rigorous audition process to be admitted into our vocal ensemble. We all have a pretty good sense of rhythm and cadence, and, of course, we love to sing. That's the most important thing. When you have all that, all that matters is that you practice a lot and make music that you enjoy. We have rehearsals twice a week for two hours, during which we try to perfect everything. With years of rehearsals and performances you get mileage. Consequently, going from the idea phase to the on-stage realisation takes a lot less time. The fact remains that we really enjoy ourselves on stage, so choreography is essential.
How do you choose your setlist and how do you find the balance, given that 40 artists surely do not listen to the exact same music… 😊
We have a repertoire committee and singers. The singers are mainly the ones who make suggestions, whereas the repertoire committee and artistic leadership make the final call, depending on the needs of the show, lack of different music styles, etc.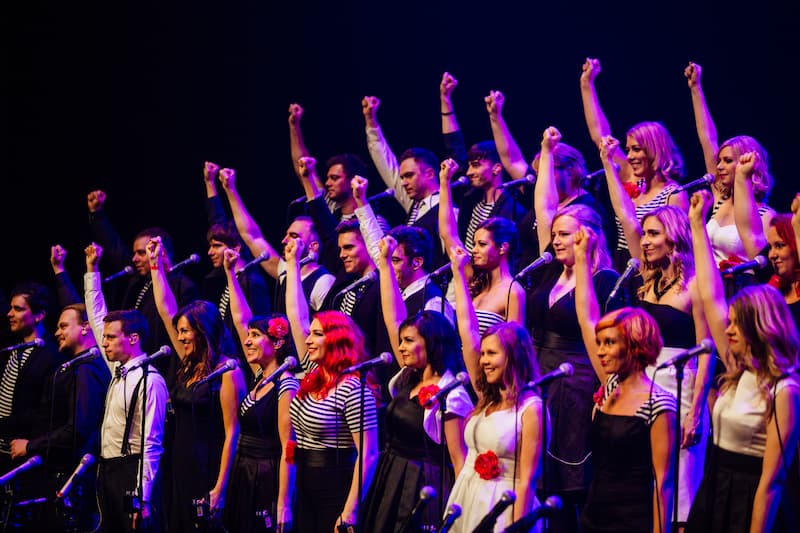 Perpetuum Jazzile has been performing for almost 40 years, starting out under the name Gaudeamus. Your most-watched video is the cover of Africa, with an incredible 23 million views. Looking back now, what is the moment that you are most proud of in your career?
Above all, we are proud of the fact that we have become role models for many young people, singers, acapella groups, and choirs around the world. In the past, the artistic direction we chose did not exist yet, especially on such a big scale, so we repeatedly ventured into territory that was unseen at the time. It got to the point where the term "choir" was no longer the best way to describe us, so we invented the term "vocal orchestra". Not to mention in-ear monitoring and sound reinforcement, which, when considering the size of our ensemble, is a whole science unto itself. We could easily answer your question by saying that we are proud of all our bigger concerts and tours around the world, as well as of all the millions of views on our videos. Nevertheless, we are much prouder every time we hear our nephews, nieces, sons, daughters, or someone else say: "Today we learned about you in class". In that moment we feel true pride because we are, in a way, already part of Slovenian music legacy.
How do you manage to easily perform music in 5 different languages?
Every language is connected to melodics in some way. If you have a sense of what something should sound like, you can memorise the phrases you sing in foreign languages quickly. In addition to that, our singers speak a variety of foreign languages, which is undoubtedly very helpful when we work on details to make a song sound as "native" as possible.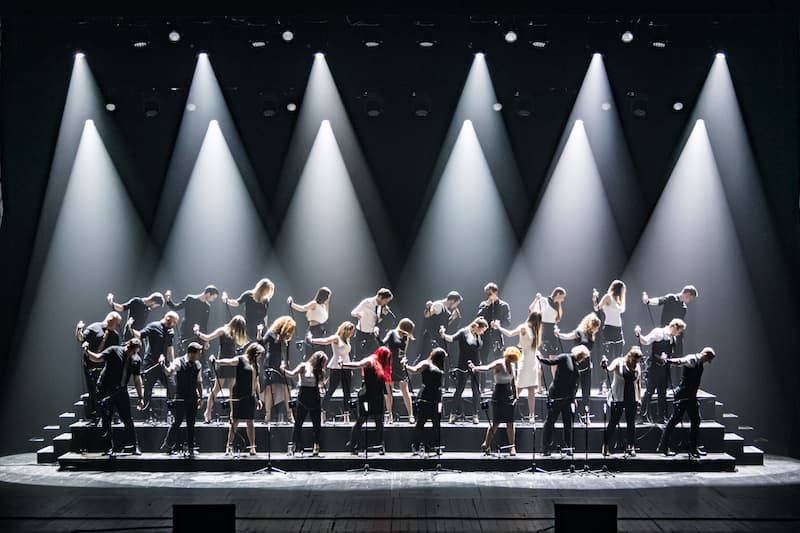 What kind of messages are important to you when you sing? How do you transfer emotion? What awakens your creativity?
First and foremost, we must feel the song we are singing. Since the only way to move the people who are listening to you is through your own version of the song. The most important thing for us is that people forget all their worries when they are at our concert and just enjoy being with us. If you sincerely believe in what you sing and feel it, you will touch people's hearts. The emotions that we often see on our audiences' faces confirm that we are on the right track. We have singers of different ages in our midst, which constantly brings a lot of fresh air to the ensemble itself. Since we are primarily friends, almost family, if you could call it that, we don't have any inhibitions that would hold back our creativity. In our ensemble, a good idea always finds fertile ground. And there is no shortage of them. 😊
What do you think of contemporary choir music? How has it changed from the time when only gospel choirs existed?
We have the utmost respect for all choir singers. There is a saying in Slovenia: "He who sings, thinks no evil." And it is true. Singing relaxes your spirit and calms you internally. That is why we strongly support all types of singing. Choral singing evolved a lot, judging by what is happening in this field in Slovenia. Choirs used to stand quite still on stage in special uniforms with sheet music in their hands. Now they dance and enjoy themselves on stage in more modern clothes, and most of them sing by heart.
How does the audience react to your performances?
We usually tell the audience at the beginning of the concert to relax, dance, and sing with us, if they feel like it. They are a bit reluctant at first, because many of them don't know what to expect, but with each song they get more and more animated. At the end, almost nobody is sitting anymore. As we said at the beginning of the interview, a Perpetuum Jazzile concert is a guaranteed great time. 😊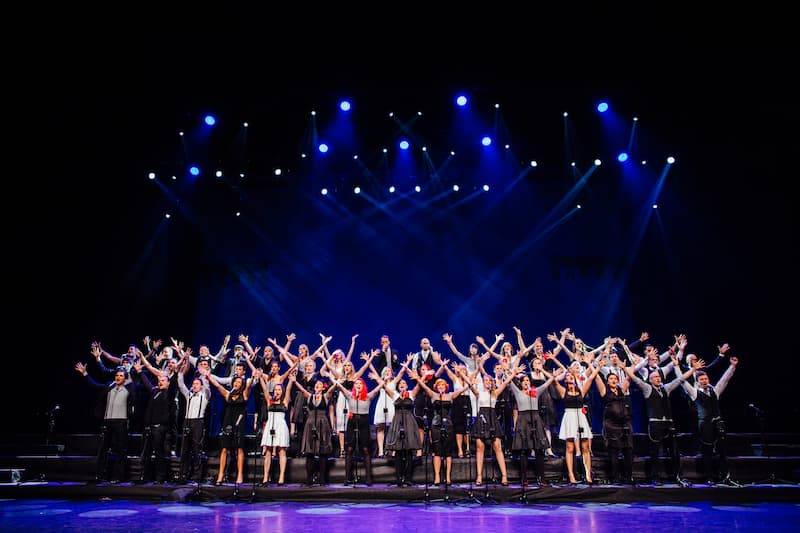 The city of Maribor was the bearer of the European Capital of Culture title 10 years ago. Could you tell us what, in your opinion, this title means for a city? What does this flattering title bring?
It says that the city highly values and supports all kinds of cultural creation. First and foremost, this title is a great compliment, but it also comes with a responsibility: to strive even harder to encourage cultural diversity and cultural participation of its citizens, and, through that, to set an example for many other European cities who also want this title.
Author: Marina Marić
Photo: Perpetuum Jazzile