Barcelona Gipsy Balkan Orchestra is a band that successfully combines jazz, Roma, klezmer and other types of music in its performances, and draws its influences from the melodies of Eastern Europe, South America, Spain and the Middle East. The ensemble consists of seven members from different parts of the world (Serbia, France, Greece, Italy, Spain and Ukraine), who are united by the diversity of cultures and musical backgrounds they carry, great energy and love for Balkan music. The international band, which is celebrating its tenth anniversary this year, has performed in more than 40 countries so far, and this time they are enriching the spirit of 'Migrations' in the European Capital of Culture.
We took the opportunity on the eve of the concert in the European Capital of Culture, to talk to members about the band's multiculturalism and mutual cooperation, about a concert in front of the Novi Sad audience that makes them very happy, and about the only lady in the band and the youngest member who joined them last year, who performs with such ease in different languages
The audience in Novi Sad will have a chance to listen to an authentic band that is recognizable by the combination of jazz, Roma, klezmer and other music, within the 'Migrations' programme arch, which deals with the topic of migration and art. What will you play in front of the Novi Sad audience on 6 March and what are your expectations?
Julien Chanal:  Due to Covid restrictions this winter it has been hard to rehearse and practice with the band. Nevertheless, we've been working on a few new songs that we are eager to test with our public!
Your ensemble symbolizes the unity of different nationalities and customs, since each member of the band comes from a different country. How would you describe this synergy of cultures and the mutual cooperation of musicians from different backgrounds, which results in great music?
Julien Chanal: The fact that we come from different cultures and even
musical genres is exactly what made our sound. We spend time sharing and testing,
even arguing, I might say, about each other' s musical ideas, and each musician
brings his/her own repertoire proposal from his/her culture and musical
background. It has been really enriching for each one of us, and that is what
keeps us going too.
Although the band includes musicians from all over the world, you are all stationed in Barcelona. How does the local audience accept Balkan music?
Julien Chanal: When we started, there was not really an audience for this music in Barcelona, mainly because people didn't know much about it… But little by little and thanks to the gipsy balkan jam sessions we organized every week, more and more people
gathered around this music. Now there is a real balkan music scene in
Barcelona!
What is special about Balkan music, how do you experience it? What is crucial for choosing the songs you cover, write and compose?
Julien Chanal: Balkan music is like any traditional music, it's full of history and lead by powerful melodies. It's direct and speaks straight to the heart. The balkan part of it adds its rich odd beats, opening and widening a lot of possibilities, as much for arranging as for composing. We choose our songs to play based on the musical material rather than a particular version. We usually tend to look for old songs that have a melody and harmony
that speak to us, and that inspire us to rearrange them in our sound.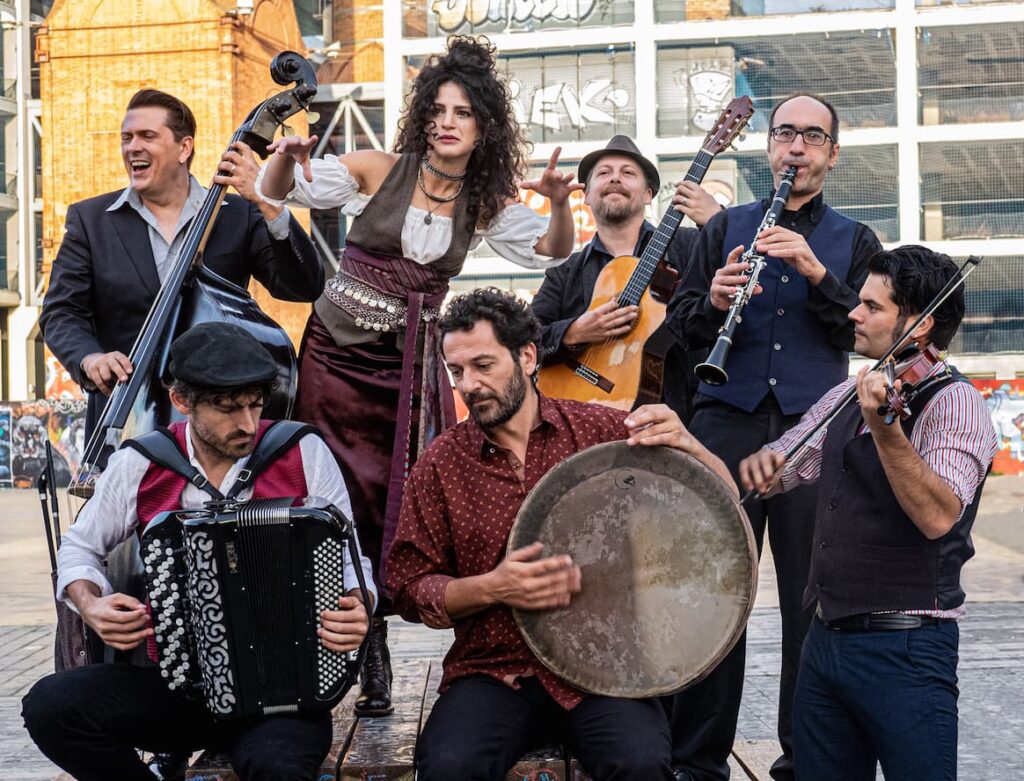 How do you do so well in singing in different languages?
Margherita Abita: Thank you! I do my best to respect each language and
each culture behind it. I work a lot on the pronunciation and of course the
meaning of what I am singing. It's a long process until the singing sounds
correct and also natural… but this process is becoming shorter, because the
more I learn new song in each language, the more I understand the phonetic and
the mechanism of this languages. Of course I don't pronounce like a native speaker, but I think these light imperfections give a special and spontaneous touch to our music. One thing is certain: in every interpretation I do, I always put my entire soul into it.
Your band is celebrating a decade of existence this year. In your opinion, what is the biggest success of the band and what challenges did you face?
Julien Chanal:  Well, the biggest challenge we faced lately was these 2 last years of pandemic… We always concentrated on live performance, so it's been really hard to keep the band together, considering some members leaving and concerts being canceled… But so far we have managed, we have a new line-up, we feel stronger than before and we hope to go for much more!
You have performed in Serbia and Novi Sad before, promoting your latest album 'Nova Era'. What was your experience and how would you describe the Novi Sad audience?
Julien Chanal: Novi Sad audience has always answered positively with their presence and is definitely one of our favourites, we are really looking forward to meeting them again!
Margherita, you are the only lady in the band. How would you describe your
collaboration with other band members?
Margherita: Touché!I am theonly lady and also the youngest member of the band.For me this band is a great opportunity to grow up, both musically and personally. Being the only woman sometimes requires me to explore and bring out a more masculine part of myself, and sometimes to do exactly the opposite to balance and complement the male with female energy. It is a fantastic journey which is teaching me a lot! Each of these men and musicians is teaching me a lot, especially travelling together and sharing experiences together. I hope that I am also leaving them something in return! 
What are you currently working on, apart from preparing for the concert in Novi Sad?

Julien Chanal: After 10 years of playing and rearranging traditional music, we're actually working on writing our own repertoire. It is a whole process, which has been slow because of the world situation but we are really excited about it, as much as we are confident that it is exactly what we should do after these 10 years. We hope the public will follow us in this new direction and we already have some surprises for Novi Sad audience.
What do you like most about Novi Sad?
Ivan Kovačević: I've spent most of my childhood going from Belgrade to Novi Sad as most of my family lives there. For me, it has always been a symbol of culture, nice people, great friends and incredible food. It has something that you cannot find in Belgrade. Some closeness that capitals cannot have. Maybe that's the reason I've moved to Barcelona, city that is, compared to Madrid, kinda similar to the difference between Novi Sad and Belgrade. I saw some similarities between those two cities in my first month in the Catalan capital. In Novi Sad we've played many times in different clubs and theaters and it was always a hell of a party. You can see how mixture of people with different cultures and roots made that city and creates a unique identity. That makes the color of Novi Sad very special and we hope it will never change.
Author: Marina Marić 
Photo: Jordi Oliver